Best International Hospitals in the Netherlands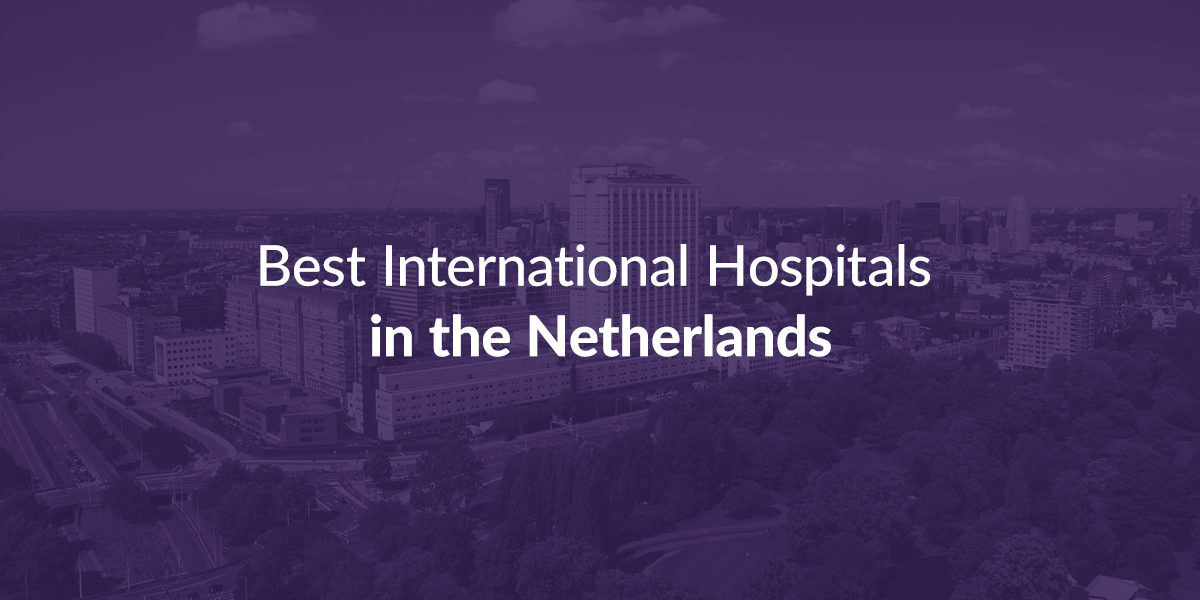 You should always prepare for potential emergencies before traveling to a foreign country in case you need medical attention while you're there. If you are traveling to the Netherlands, it's important to research which hospitals will be near your location and can offer quality care. The country contains excellent hospitals, and it is fairly easy to find an English-speaking doctor in the Netherlands. To help you prepare for your next trip, we created a guide to the Netherlands' best international hospitals.
Reasons You May Need to Visit International Hospitals in the Netherlands
While a hospital isn't a fun place to visit in any country, you may find yourself needing medical care while exploring the Netherlands. You can rest assured that the Netherlands is home to excellent hospitals if you need medical treatment, but it's important to research nearby hospitals so you're prepared. You may need to visit a hospital for any of the following reasons:
Illnesses: If you experience any type of sudden illness while in the Netherlands, it's important to seek medical attention right away. You may be able to power through a mild cold with some over-the-counter medication, but you should visit a hospital if you experience any serious illnesses such as the flu, pneumonia or an infection.
Injuries: If you fall, are involved in a car wreck or have any sort of accident, be sure to visit the nearest hospital for treatment. Even minor injuries can worsen if left untreated, so it's important to seek medical care as soon as you can.
Chronic health conditions: Another reason you may need to visit a hospital while in the Netherlands is if you have a chronic condition that causes flare-ups. If you have asthma, diabetes or any other type of chronic condition, be extra cautious while traveling and plan ahead. Take any necessary medications with you and know where you can pick up refills in the Netherlands if you need to.
Does the Netherlands Have Good Hospitals?
You can expect to receive quality health care in the Netherlands. The Netherlands is home to one of Europe's best medical care systems. Private non-profit organizations operate nearly all of the Netherlands' medical care levels, and the Dutch government's strict regulations ensure patients receive high-quality care. The Netherlands offers three types of hospitals — general hospitals, academic hospitals and top-clinical hospitals.
General hospitals provide quality standard care, but they don't offer specialized care. Academic hospitals connected to universities offer specialist care with a research-focused approach, and top-clinical options are teaching hospitals that work with academic hospitals to train interns and medical professionals. All three hospital types offer quality care, but you will need to visit an academic hospital or a top-clinical hospital to receive more specialized care.
Care centers in the Netherlands are typically comfortable, but they usually discharge patients as soon as they are healthy enough to leave so they can continue healing in the comfort of their own homes. If you are looking for English-speaking hospitals in the Netherlands, rest assured that it is fairly easy to find English-speaking doctors at many hospitals.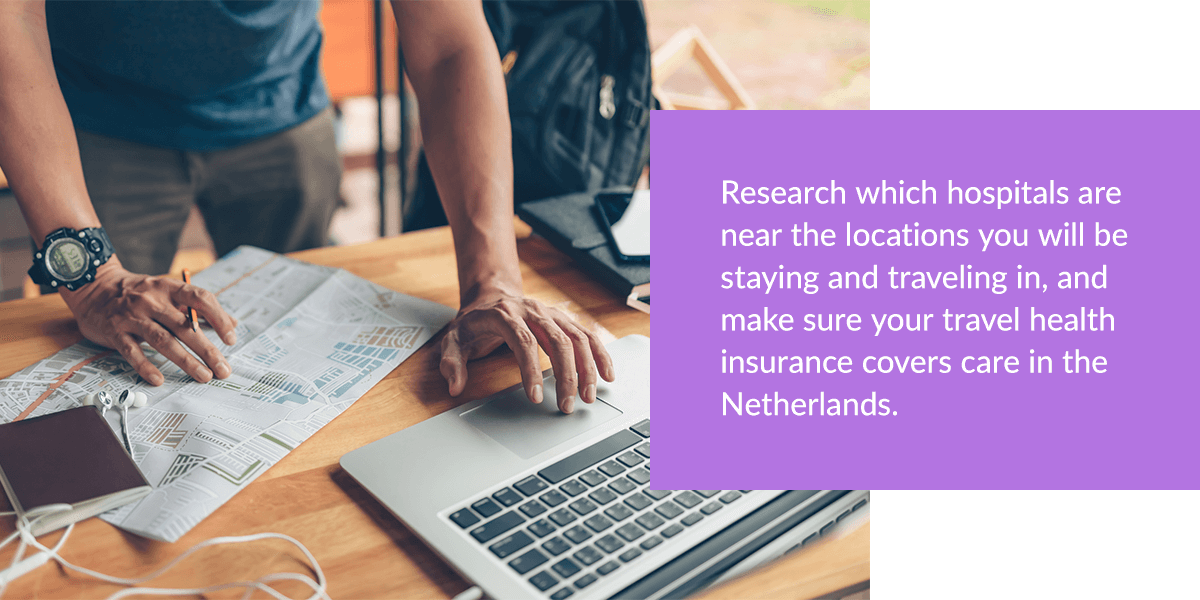 Best International Hospitals in the Netherlands
Quality international hospitals in the Netherlands include:
How to Prepare for Potential Emergencies in a Foreign Country
Medical emergencies can happen anywhere and at any time, so it's important to be prepared. Research which hospitals are near the locations you will be staying and traveling in, and make sure your travel health insurance covers care in the Netherlands. This will help you avoid any expensive treatments or get any medications you may need.
You should also add medical evacuation coverage to your insurance plan in case you need air ambulance services to reach the nearest hospital or travel home for medical care.
What to Do in the Event of an Emergency
In the case of an illness or minor injury, you may be able to drive yourself to the hospital or call for a taxi to drive you there. However, if you find yourself in an emergency situation in the Netherlands and need an immediate medical response, call 112 to reach emergency services and talk to an operator. In some cases, you may need air ambulance services if you become ill or injured in a remote location.
How REVA's Medical Evacuation Services Can Help
European medical evacuation teams transport patients while providing critical medical care. Patients may need medical evacuation if they sustain an injury in a remote location far away from the nearest hospitals. Other patients may need medical evacuation to travel from one hospital to another or to return to their home country for care from their primary physician. Some individuals request medical evacuation so they can heal and recover in the comfort of their home country.
No matter what your reason is for needing medical evacuation services, REVA is here to help. REVA offers high-quality medical evacuation services to meet the unique needs of individual patients. Travel with peace of mind knowing that REVA will offer compassionate care and safely transport you where you need to go.
Contact REVA for Medical Evacuation Services
Prepare for potential emergencies before traveling to the Netherlands so you can travel with confidence. Make sure you know which hospitals are near your destination, and know that you can request medical evacuation if you become injured in a remote location or need to travel to a hospital in your home country.
REVA's experienced and compassionate air evacuation team is available 24 hours a day and ready to help you when you need it. Contact REVA or request a quote to learn more about how we can help in the event of an emergency.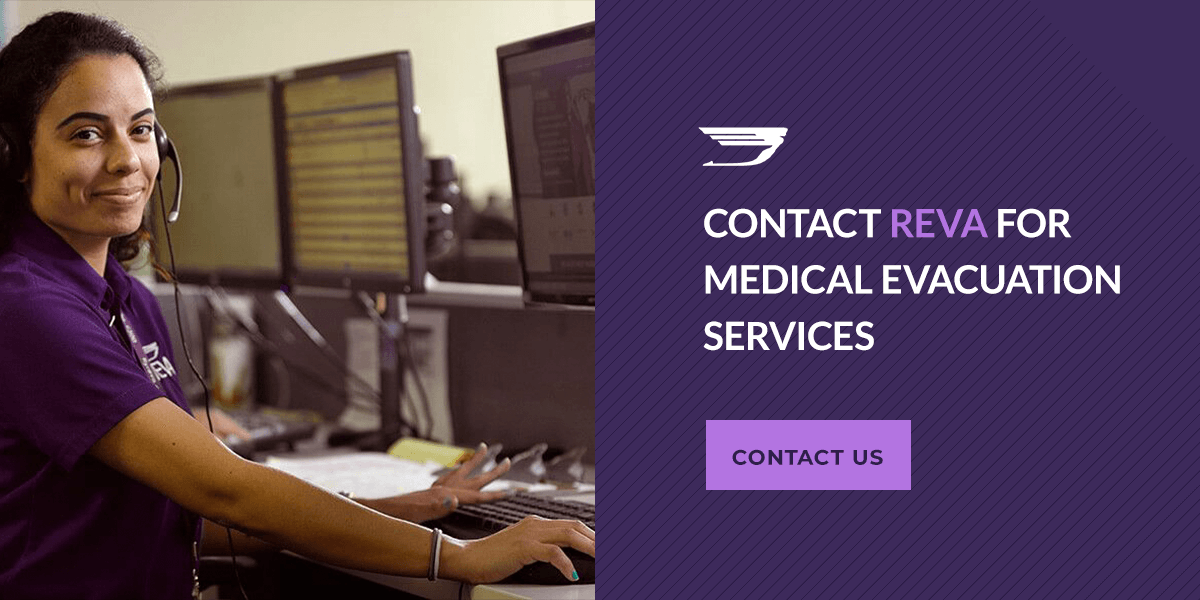 This post was reviewed by REVA's Medical Director, David A. Farcy.