CASE MANAGERS

Dedicated

CASE MANAGER

phone number
National and international network capability
Impeccable safety record & safety management system
Owners & operators of 16 dedicated air-ambulance aircraft
30+ years serving aero-medical customer & industry needs
In-network with Humana
In-network repricing agreements:
Multiplan, Zelis, First Health, Three Rivers
pRODOUD sUPPORTS OF national aND regional ACMA and CMSA chapters 24/7 CASE MANAGER
Communications Center
---
1-954-730-9300


REVA TEAM
REVA's medical crews are highly qualified specialists in emergency care, including doctors, nurses, paramedics and respiratory therapists. Our aircraft are fitted out with critical-care and life-support equipment that sets the standard in the industry.
REVA PROCESS
The heart of REVA's services is our highly advanced, highly efficient Communications Center "The ROC". The hub is capable of providing assistance 24 hours a day to ensure our clients a smooth, comfortable journey.
REVA FLEET
REVA's fleet of 16 fixed-wing dedicated air-ambulance aircraft is augmented by a hangar of more than 150 luxury aircraft available through new partner Directional Aviation and Flexjet.
NOTHING LESS THAN THE BEST
We've been transporting patients to the care they need for more than 30 years. REVA is the safest, most modern, most professional air-medical transportation available.
Setting the bar
REVA holds our medical, flight and ground crews to standards higher than those set by industry and government oversight agencies.
All about the patient experience
Our Flight Nurse Case Managers tailor each transport to a specific client through a pre-flight assessment in conjunction with the attending physician.
In our hands
We work with stakeholders, caregivers and family members to ensure the smoothest and most cost-effective transport possible.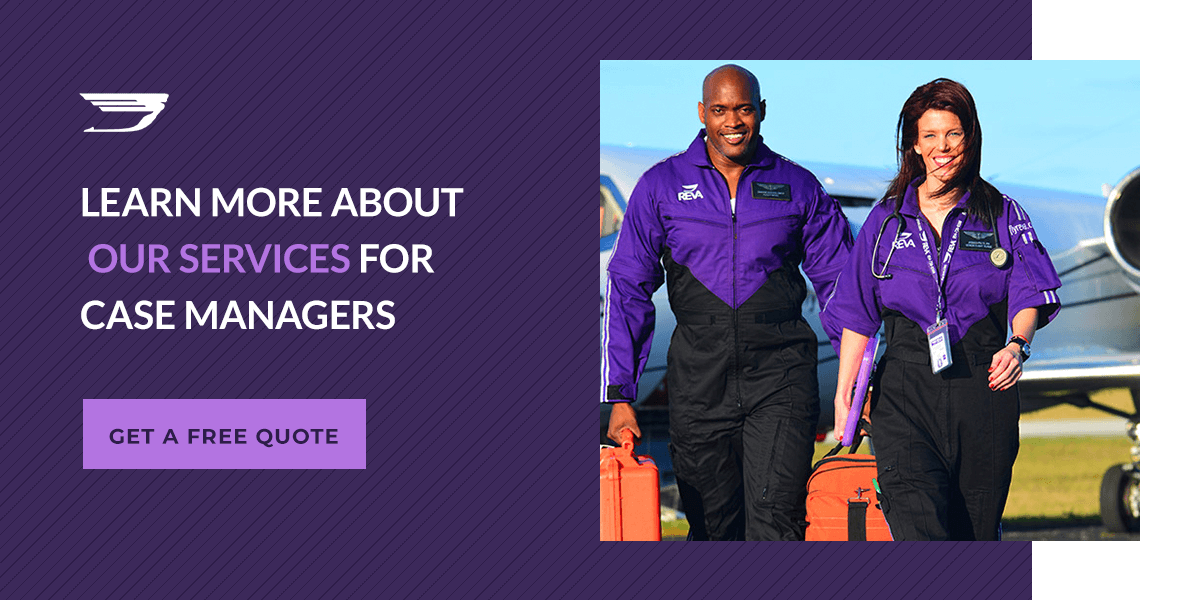 Why Choose REVA?
As a hospital case manager, you're organized. You're motivated. You work hard to provide top-notch care for your clients. Your dedication makes us proud to be here for you when your clients need medical air transport.
At REVA, we're passionate about our mission to positively impact every patient we transport while safely carrying them to their destination. Learn what makes us the world's premier air ambulance service.
We've earned high praise from many prominent medical and aeronautical organizations. Our accreditations and awards include the following.
AR/GUS: Awarded International Platinum Designation for superior flight safety
National Accreditation Alliance Medical Transport Applications: Accreditation for critical care, commercial medical escorts, basic and advanced life support and specialty care
European Aero-Medical Institute: Accredited for adult, pediatric and neonatal critical care on long-range transports
International Travel & Health Insurance Journal: Awarded Air Ambulance Company of the Year
We are active members of several prestigious aviation organizations, including the National Business Aviation Association. REVA is also an approved air carrier for the United States Department of Defense, which further indicates our dedication to safety.


What You Can Expect From REVA
When you arrange transport with REVA, you can expect the highest standard of patient care available. Here's how we pledge to serve you and your clients:
Comprehensive, compassionate care
A safe passage from point A to point B
Comfort for family and friends
Consistent updates on your client's condition and treatment
Whether your client needs emergency services or non-urgent transport to a local facility, we've got your back. Provide details about the situation, and we'll evaluate what we can do to help.
OUR MISSION
To enhance the lives of every patient we care for while being safely transported across country or overseas.
Reva's flight team is comprised of experienced air ambulance specialists who have undergone specialized training and are passionate about providing patients with the care they need and deserve.
INSURANCE
Your client deserves access to high-quality care. So we work with their insurance provider to remove any financial barriers standing in the way.
REVA works with most major insurance providers. We are also in-network with Humana, and we have in-network pricing agreements with Multiplan, Zelis, First Health and Three Rivers Provider Network. For Florida residents, we offer financing options.
We'll determine the appropriate coverage to suit your client's needs, then procure the proper documentation and coordinate reimbursement. If we need to, we'll even appeal decisions to ensure your client has access to the appropriate care.

In-network repricing agreements - Multiplan, Zelis, First Health, Three Rivers.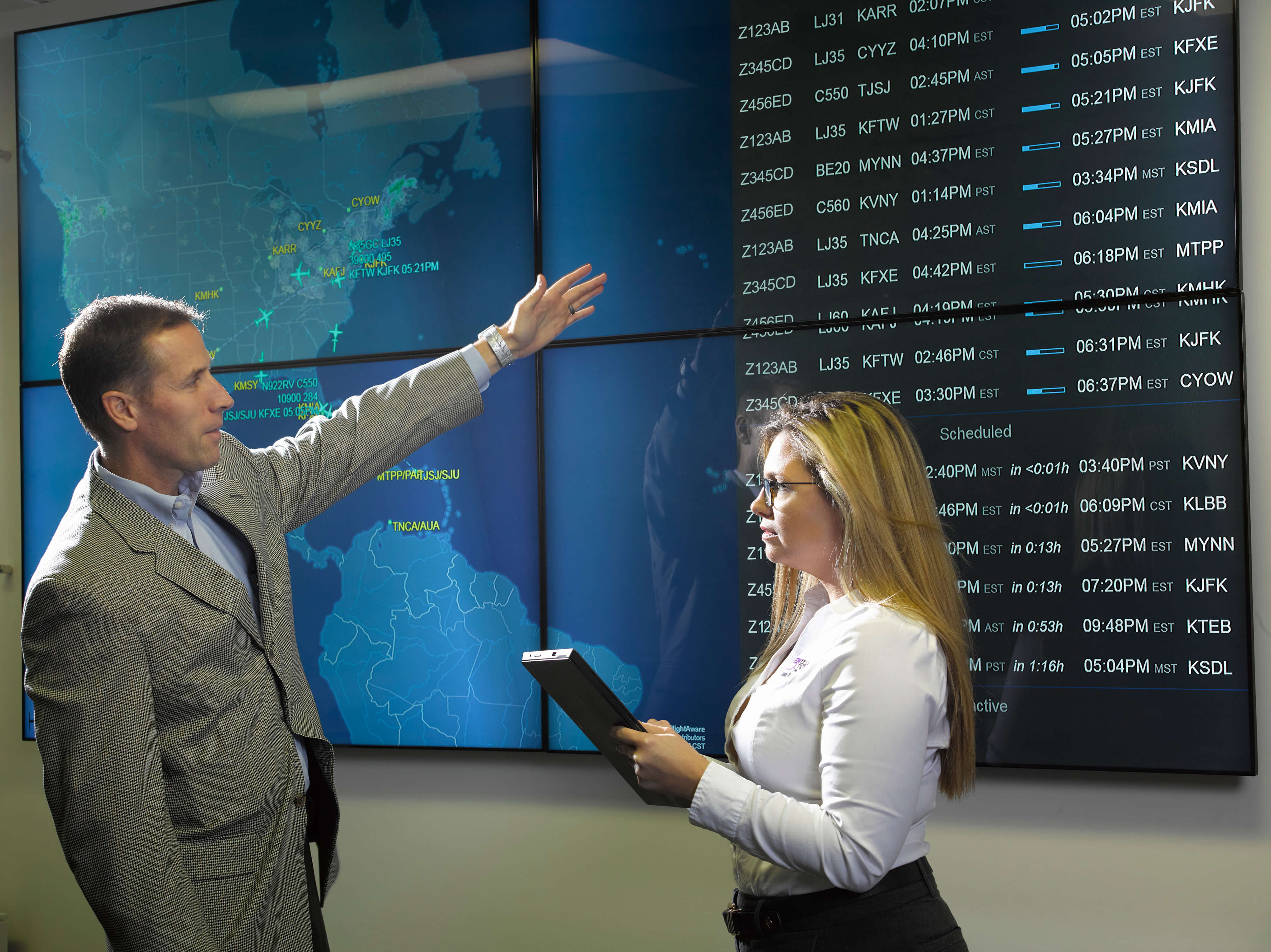 Put it all in REVA's hands.
From the time you contact us to the time we reach our final destination, REVA takes care of everything with precision and compassion.


THE SKY IS THE LIMIT
REVA has welcomed Directional Aviation and Flexjet, an American provider of sleek, super-modern private aircraft, as a proud new partner. The alliance gives REVA the flexibility to pair one of its top medical teams with fully outfitted luxury aircraft that can fly anywhere in the world with fewer stops – or even nonstop. This service is available to ambulatory patients.
Flexjet's fleet HAS more than 150 aircraft including the Gulfstream G650 For ultra-long-range flights.
24/7 Operations
Flight coordinators are available around the clock, every day, to organize flights from beginning to end.
Multilingual
Multi-lingual communications specialists are available to consult with clients and their families.
Communications
REVA's staff informs family members and caregivers of patient's status, throughout a flight, and are always available to answer questions.
Bedside to Bedside
REVA's medical crew will arrive at the client's bedside and stay with the client until the transfer of care is complete at the destination.
Medical Professionals
REVA sets the standard in the air-ambulance industry by providing the highest level of medical professionals on all services.
Insurance Process
REVA's insurance reimbursement specialists find coverage to help remove financial barriers to a patient's care. In some cases, we will appeal decisions to provide the best coverage.
Safety
REVA's safety training and programs are highly organized, meticulous, and ongoing. We surpass all requirements of regulatory agencies.
16 Dedicated Aircraft
REVA's fleet includes 16 dedicated air-ambulance aircraft maintained to specifications that routinely exceed FAA-approved aircraft inspection programs.
Global Alliance
REVA's Global Alliance Program has grown to 27 audited industry partners, expanding REVA's worldwide reach.
Our Case Manager Support Team
As a contributor to both the Case Management Society of America and the American Case Management Association, REVA knows case managers work hard in organizing vast amounts of details for each of their clients.
We tailor our services to provide a first-rate patient experience. Using data collected through a pre-flight assessment, our medical transport case managers work with physicians to customize each transport for the most streamlined and affordable passage we can provide.
We communicate with you every step of the way to keep you abreast of your client's arrangements. REVA takes care of every detail of the transport mission, from insurance reimbursement to coordinating a hospital bed, so you can feel secure in leaving your client in our hands.
Our Experience and Results
With more than 30 years of experience in the field, REVA sets the standard of excellence in the medical transport industry. From the top down, we're committed to maintaining our superior status by promoting consistent improvement within our teams.
Our leadership staff consists of experts in the fields of medicine and aviation. For example, our medical director, Dr. David Farcy, is the senior editor of the book Critical Care Emergency Medicine. Kalas Burkule, our maintenance director, has almost three decades of experience in aviation maintenance and engineering. With such accomplished individuals at the helm, REVA is well-equipped to pave the way in medical transport standards.
Patients are overwhelmingly impressed with our professional, dependable service. You can read some of our client testimonials to get a feel for our quality of care.
Our Transport Solutions
Our in-house fleet consists of 16 medium-range fixed-wing vehicles, and we've partnered with Directional Aviation and Flexjet to provide the world's best-outfitted air ambulance service without sacrificing comfort. This partnership allows us to access Flexjet's fleet of more than 150 luxury aircraft for longer, more complicated flights.
We've specialized each aircraft to meet any patient's needs, so whether your client needs an emergency evacuation or non-emergency transport to a local medical facility, we have the appropriate craft and equipment for them.
Each aircraft contains state-of-the-art medical supplies, including complete ICU apparatus and portable laboratory equipment. No matter your client's needs, we can handle them.
Our Aircraft and Aviation Team
You can trust REVA to provide your client with the safest medical evacuation experience possible. Our team of more than 50 veteran pilots has flown over 30,000 missions throughout 70 countries. Our aircraft and aviation team has accrued over 200,000 hours in combined flight experience, coming from military, commercial and medical aviation backgrounds.
REVA prioritizes safe, smooth transport. Before becoming part of the team, each pilot undergoes rigorous written and practical training that goes above and beyond Federal Aviation Administration standards. We've also partnered with Flight Safety International to provide our pilots with top-class ongoing training. You can count on our pilots to take your clients wherever they need to go.
Our Medical Team
At REVA, our team of more than 250 skilled medical professionals goes through intensive ongoing training to provide the best in-air medical treatment possible. We enlist people who know what they're doing — we require each staff member to have at least three years of emergency room or critical care experience before they can work with us. Our medical team's skills are diverse, with individuals possessing the following specializations:
Registered respiratory therapists
Flight registered nurses
Neonatal registered nurses
Physicians and doctors
Critical-care paramedics
Additionally, our team carries certifications in multiple types of care, such as:
Cardiac care unit and advanced cardiac life support
Intensive care unit
Emergency department basic and pediatric life support
Prehospital trauma life support
Neonatal resuscitation
Our seasoned team is more than ready to take care of your client.
Learn More About Our Services for Case Managers
When you need the best in urgent care for your overseas client, REVA is here to help. Reach out today to get a free case manager quote for our air ambulance services. You can also call our dedicated case manager line for more information at 305-224-6089.
Give your clients the most efficient, compassionate care with REVA.