International Hospitals in Greece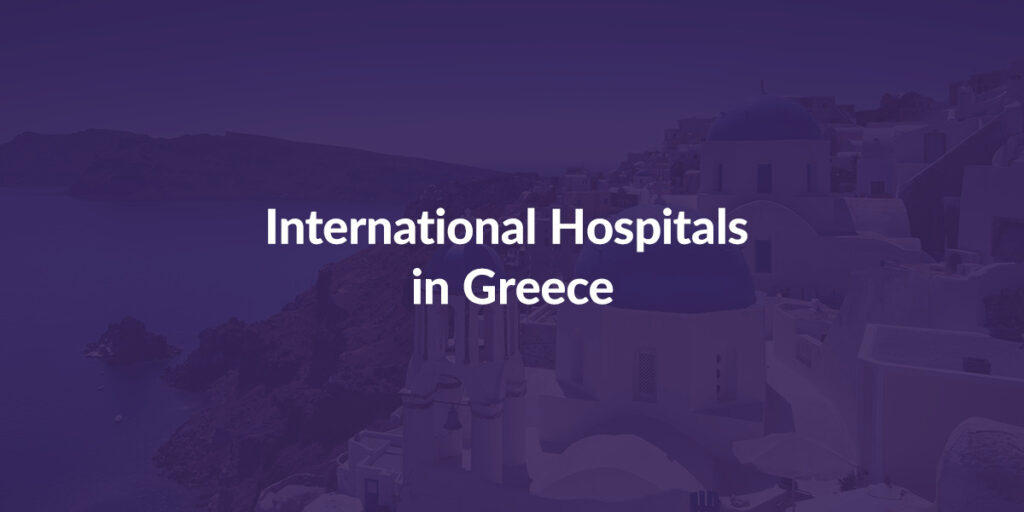 Greece is known far and wide for its delectable food, beautiful landscapes, balmy Mediterranean climate and historic architecture. Thus, the country can be quite a tourist attraction. People from all over the world visit Greece for pleasure and business.
But during your stay, you may face a situation where you need to visit a hospital in Greece to get essential medical care. This article will give you more information about medical care in Greece so you can take the next step with confidence.
Reasons to Visit One of the Hospitals in Greece
While in Greece, you'll face many of the same health risks you would anywhere else in the world, including your hometown. The main difference to consider is that you'll be in unfamiliar locations far from your home doctor. For that reason, you should prepare yourself for any eventuality before traveling abroad to Greece.
If you're unsure whether your condition deserves visiting a hospital in Greece, then see the list below for reasons why travelers may need to visit an international hospital:
Common health situations: Both automobile accidents and accidental falls are two common ways people can sustain an injury while abroad. If the injury is severe enough, then a visit to a hospital in Greece may be the only option for the best chance at a full recovery.
Severe conditions: Some more severe health concerns could be the reason you'll have to visit a hospital while in Greece. These conditions are often chronic, which means you can plan for them. Even with proper planning, you may need to visit a doctor to keep your symptoms at bay. If you experience a symptom flare-up, then visiting an international hospital may be essential.
Unplanned sicknesses: Some sicknesses may catch you off guard. For instance, a fine meal could lead to a night of food poisoning a few hours later. There's also a chance you could catch the flu or another illness, causing you to need to visit a local public or private hospital. 
Injuries in remote places: One of the joys of visiting Greece is going sightseeing. But if you sustain an injury in a remote location, you could be hours from the nearest hospital. In these situations, you'll need an air ambulance to fly you to a hospital for your critical healthcare.
How Is the Quality of Greece Medical Care?
As a patient in a foreign country, you may be wondering about the quality of healthcare in Greece.
Travelers can seek medical care in Greece with confidence. Their medical system was once regarded as one of the best in the world and is still able to provide top-grade care today. Most facilities are clean and modern, just as you'd likely find in your home country.
However, the quality of healthcare differs depending on where you're at in the country. The mainland has most of the best hospitals available in Greece, whereas the islands may have facilities of lower quality.
List of Hospitals in Greece
Greece has plenty of medical facilities that can meet your needs. Many of the international and private hospitals in Greece employ English-speaking staff, which can help you feel more comfortable throughout the entire process of receiving healthcare.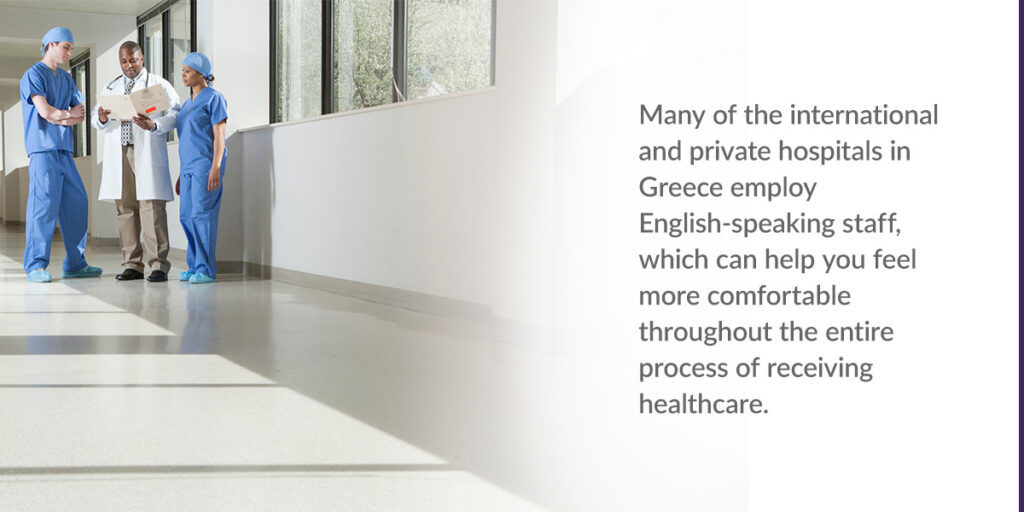 Remember that you'll be responsible for the costs of services you incur during your visit. Talk with your insurance provider for more information about a plan that will help cover medical costs while you're in Greece. Citizens of the European Union (EU) may have access to free healthcare upon presenting a valid European Health Card.
Here are a few of the top hospitals in Greece for travelers:
Central Clinic of Athens: When looking for hospitals in Athens, Greece, Central Clinic of Athens is usually at the top of the list. Their commitment to innovation and research makes them one of the best hospitals in Athens, Greece, for locals and visitors alike. The 140 beds mean you should have relative ease receiving treatment unexpectedly.
Hygeia Hospital: Hygeia Hospital in Athens is another great option for travelers who need medical treatment. It's a private hospital, which means you can expect top-quality healthcare and services. This also means you may have an easy time finding a doctor who can communicate with you in English. The hospital is in an excellent location, with buildings near the Athens International Airport.
Santorini General Hospital: If you're looking for a hospital in Santorini, Santorini General Hospital began operating in 2016 under the supervision of the Ministry of Health. This hospital's purpose is to provide healthcare to residents and visitors, so it's a solid option if you become ill while abroad in Greece.
How REVA's Services Can Help
During your trip to Greece, you may find yourself needing an air ambulance to get the help you need. This is true whether you sustain an injury or illness in a remote location or if you need medical air transport to safely bring you back home. Our services have helped patients in over 70 countries, so you can be sure that we can reach you when you're sick or injured in Greece.
We've streamlined the process of receiving our services to make it as easy for you as possible. All you have to do is contact us to request transport and let us know about your specific medical situation — we'll handle the rest from there. We'll gather all necessary documentation and assemble the necessary medical and flight crews. We even coordinate ground transportation services when needed.
We'll be with you from the start of the process to the end — from bedside to bedside. We know the uncertainty that can surround falling ill while abroad. Our goal is to help ease your stress so you can focus more on your recovery and less on the fine details. Let REVA handle your medical air transport needs.
Contact REVA for Medical Air Transport
At REVA, we strive to give each of the patients in our care the safest, most compassionate European medical air transport services possible — wherever they're at in the world. If you need an air ambulance during your time in Greece, we can provide the services you need. We pride ourselves on our commitment to safety, so you can enjoy more peace of mind from the start of the process to your journey's completion.
Request a quote online today to take the next step. Feel free to contact us at any time if you need any more information, and we'll be happy to talk with you.