On December 19th, Brian Weisz, COO of REVA, Inc., was recognized by CEO Stuart Hayman for his 25 years of service and dedication to the Air-Ambulance industry.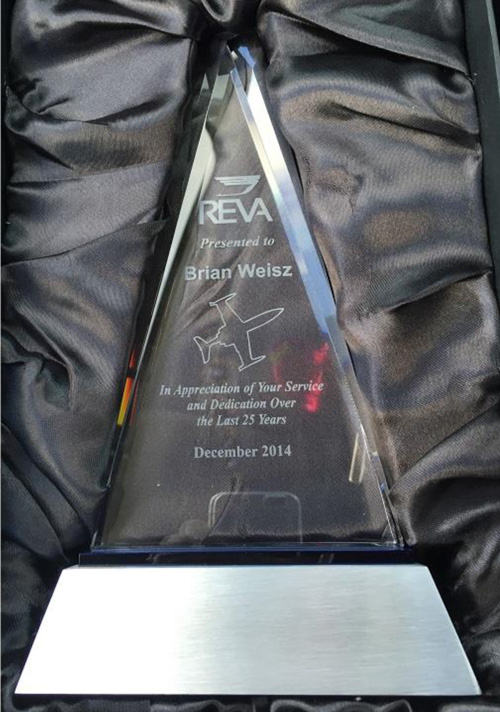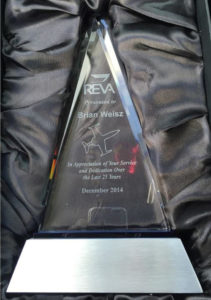 "Brian has dedicated twenty-five years to our business and this industry and for this, we are deeply grateful. His contributions have been instrumental to our achieving the highest standards of safety, patient care and customer service. Brian has had an enormous impact in moving our industry and business forward."
Brian's career started as a Firefighter/Paramedic serving the City of Oakland Park for over 22 years. During his early years as a Flight Medic and Respiratory Therapist, he realized that air transport was a very rewarding profession.
Brian felt that with his medical background he could make a difference in the air ambulance industry, so began focusing on developing his own company which was founded as Air Ambulance Professionals (AAP) in 1989, making quality patient care his primary objective.  Brian's success was recognized in the industry when Air Ambulance Professionals became the first air-ambulance company to earn both CAMTS and EURAMI full accreditations.
In 2012, Air Ambulance Professionals merged with Aero Jet International to form REVA, Inc. As the Chief Operating Officer of REVA, Brian has focused on growing the size, quality, and effectiveness of the operation, upholding professional performance standards that exceed industry practices and expectations. With his help, REVA also has earned NAAMTA, ARGUS, and International Assistance Group accreditations.
Over the last 20 years, Brian has also given back to the medical communities, being instrumental in helping build their education programs.
Again, Brian, thank you for your dedication to continuous improvement in the aero-medical-services industry and to the safety and well-being of the patients you serve.
Download Official PDF: Brian Weisz 25 Years in Air Ambulance Industry