Expedited Medical Service from Remote Locations
Together, Tropic Ocean Airways and REVA bring over 40 years of experience in seaplane aviation and medical evacuation and collectively will assist key networks in responding quickly to the medical needs of their clients who find themselves in crisis, in turn saving more lives and reducing risk for referral partners.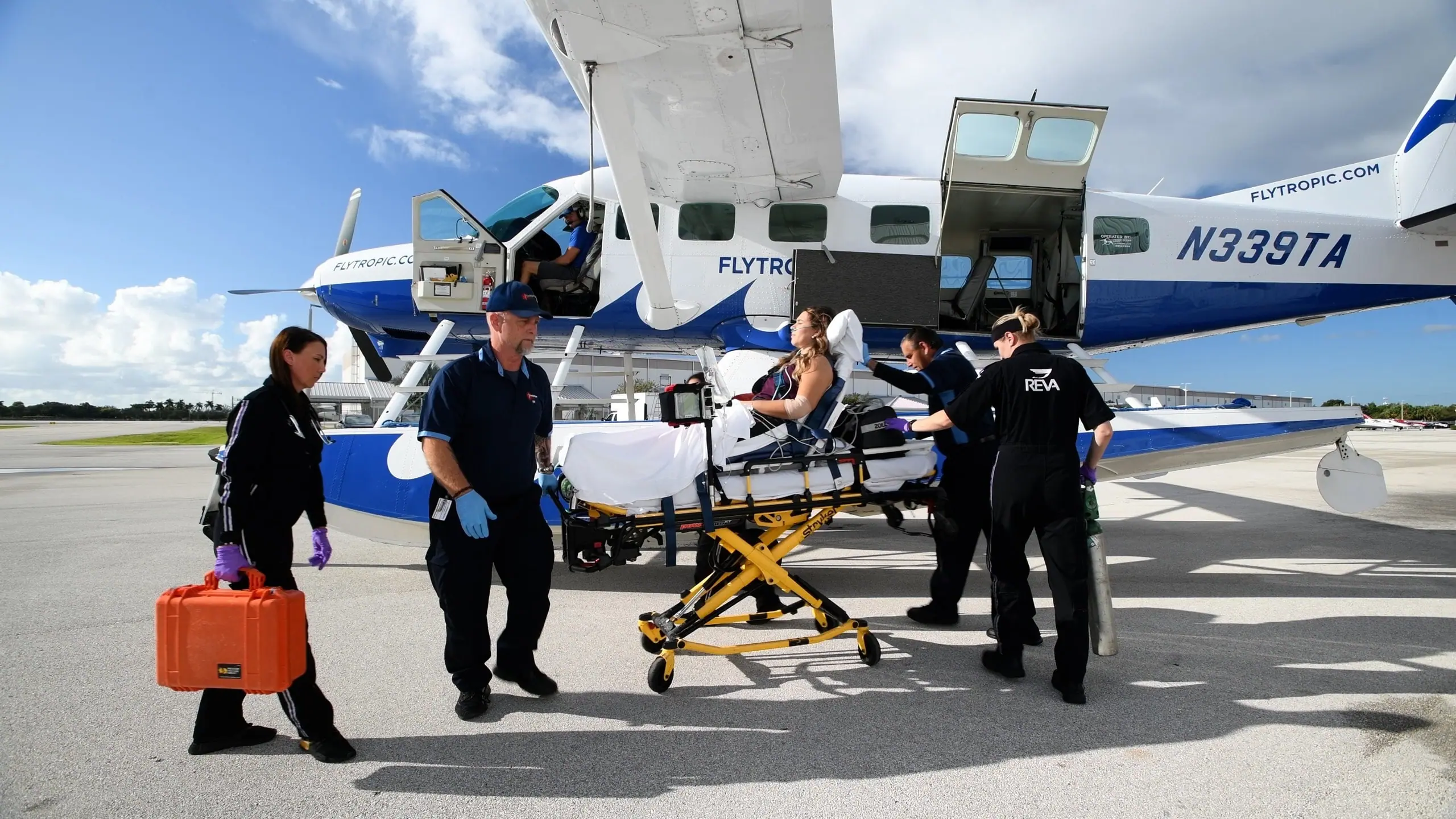 CALL
CONNECT
Be connected with a REVA operator, available 24/7
COORDINATE
REVA and Tropic Ocean Airways will coordinate your medical evacuation.
DISPATCH
REVA & Tropic Ocean Airways will dispatch a plane for evacuation.
MEDICAL CARE
Receive the medical care required in your time of need.
Years of Combined Experience
Access Points in the Bahamas
We Can Go Where Others Can't
Through this alliance, we are able to reach patients in the most remote locations. Tropic Ocean's Seaplanes puts REVA's medical team right on the X, right where you are.
While others need to rely on extra steps of transportation, costing you extra time in a medical situation, we are able to come right along your yacht, meet you on the beach, get you off the cruise ship, or get you from anywhere else remote. This means you are receiving the proper medical care you need sooner.
See our full map of access points in Bahamas to respond to medical needs quickly
EXPERIENCE
Our medical professionals collectively have accumulated thousands of hours of experience in air-ambulance transport, critical care and emergency room response.
PROFESSIONALS
REVA's medical team is staffed by highly qualified specialists in emergency care, including flight doctors, registered nurses, critical-care paramedics and registered respiratory therapists.
CERTIFICATIONS
Intensive Care Unit, Cardiac Care Unit and Advanced Cardiac Life Support, Emergency Department Basic and Pediatric Life Support, Neonatal Resuscitation, Prehospital Trauma Life Support
Our Medical Evacuation Services
Critical Care Transport
Specialized NICU Transport Team
Specialized ECMO Transport Team
Ventilator Management
Continuous Cardiac Monitoring
Invasive Line Monitoring
State of the Art Technology
Continuous Critical Care Training
Complete Bed-to-Bed services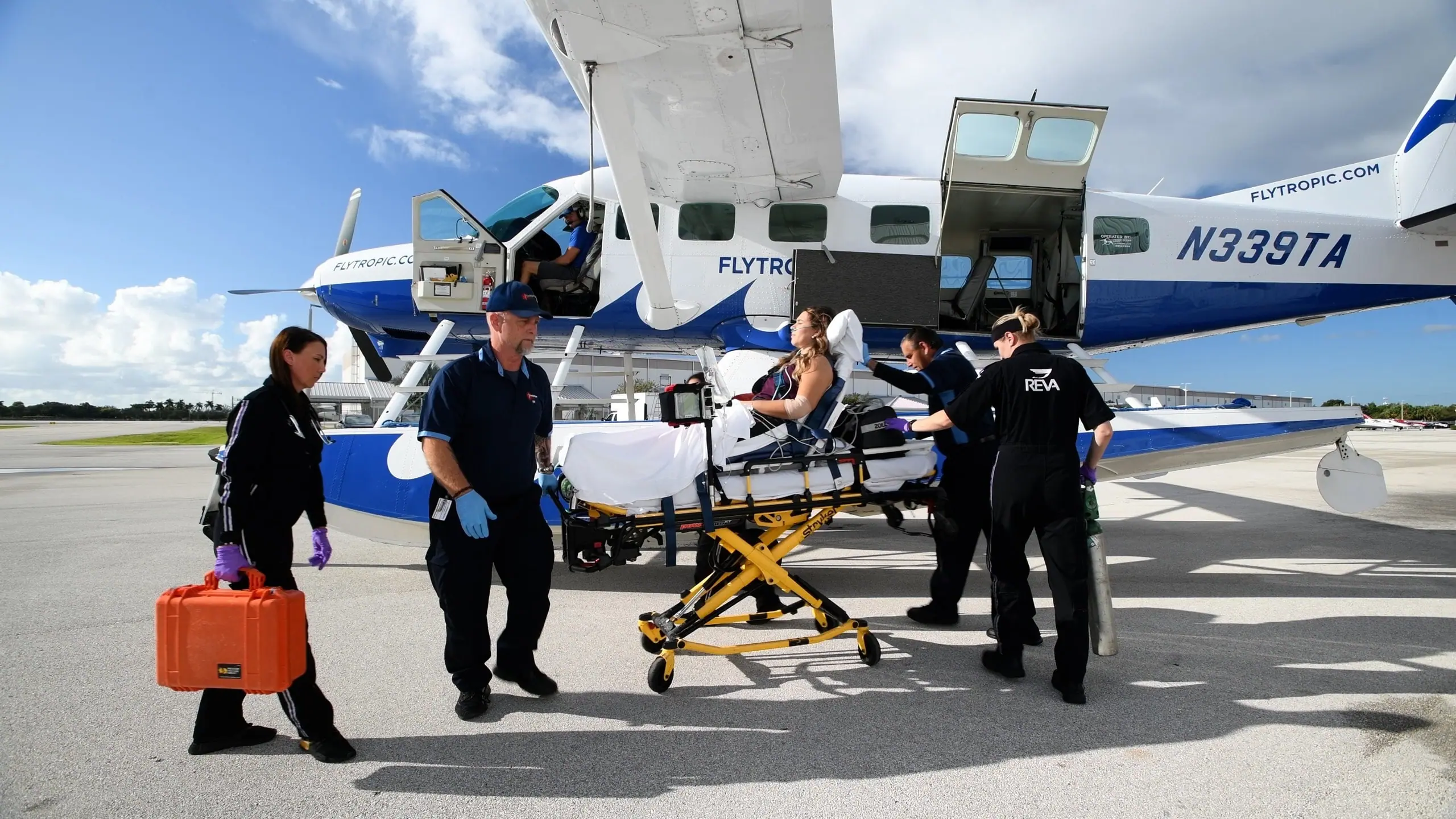 "It is the sacred responsibility of every REVA medical professional to provide the finest care to our clients."
DAVID A. FARCY
MEDICAL DIRECTOR
David A, Farcy is one of the preeminent physicians in the highly specialized field of emergency care and critical-care medicine. Dr. Farcy, who joined REVA as its medical director in 2015, is the senior editor of Critical Care Emergency Medicine, which means he has literally written the book on emergency-care.
Stranded? Need Medical Evacuation?
REVA and Tropic Ocean are on standby 24/7 to respond to medical evacuation needs in remote locations. If you are in need of a medical evacuation, contact our team through one of the two methods below.
Call Our Dispatch Team
Air Ambulance Request Form