TRAUMA & BURN MEDICAL AIR TRANSPORT
Air Ambulance Services for trauma & burns
REVA can transport you to the medical facility you need to go to. If you're experiencing cardiac issues, our medical team will provide the best support throughout the flight so you're comfortable and safe. Here's a guide to getting medical air transport for cardiac issues.
If you or someone you know has cardiac issues and has difficulty getting to a hospital or other medical facility, a medical air flight could help. REVA is a medical air ambulance transport company available worldwide to help patients get to their locations. A caregiver, case manager or patient can request medical transport and coordinate a flight with one of our team members.
The person who requests the transport will give our team the information we need to make the flight as accommodating as possible. We'll need to know the locations where the patient should be picked and dropped off, if a doctor requested the transport and any other information deemed essential for us to know.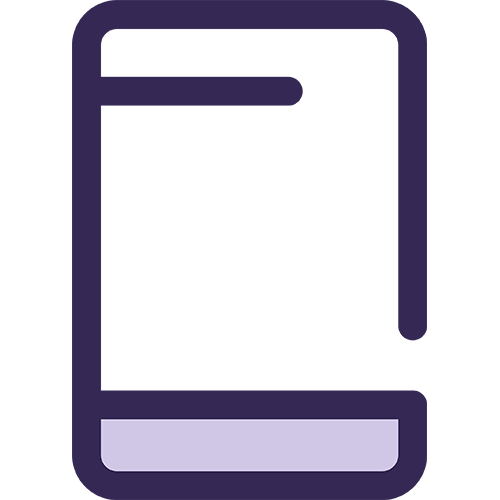 CALL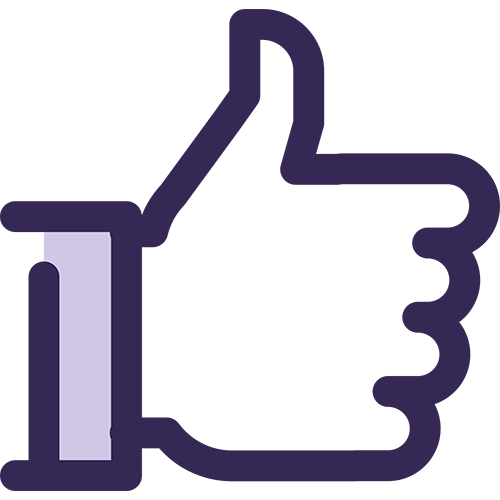 CONFIRM
REVA confirms details and condition of the patient. REVA will coordinate all aspects of the transport.
REQUEST MEDICAL AIR TRANSPORT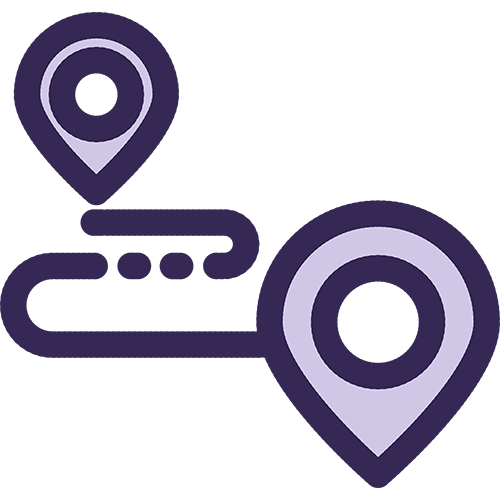 COMPLETE
Patient is tended to and arrives safely to their final destination.
PATIENT CARE
We have medical teams full of doctors, registered nurses, registered respiratory therapists and critical-care paramedics. You can trust our medical teams to give you the best care during your journey. Our professionals have accumulated thousands of hours of training and experience in critical care, emergency room response and air-ambulance transport. We hold all our teams to a high standard, so our patients can rest assured they'll receive the best care every time.
When you fly with us, we ensure all the necessary preparations are complete so you can focus on getting home or to the nearest medical facility for proper treatment. The flight nurse case managers in charge of clients' transport customize the flights according to their unique circumstances to feel safe and comfortable.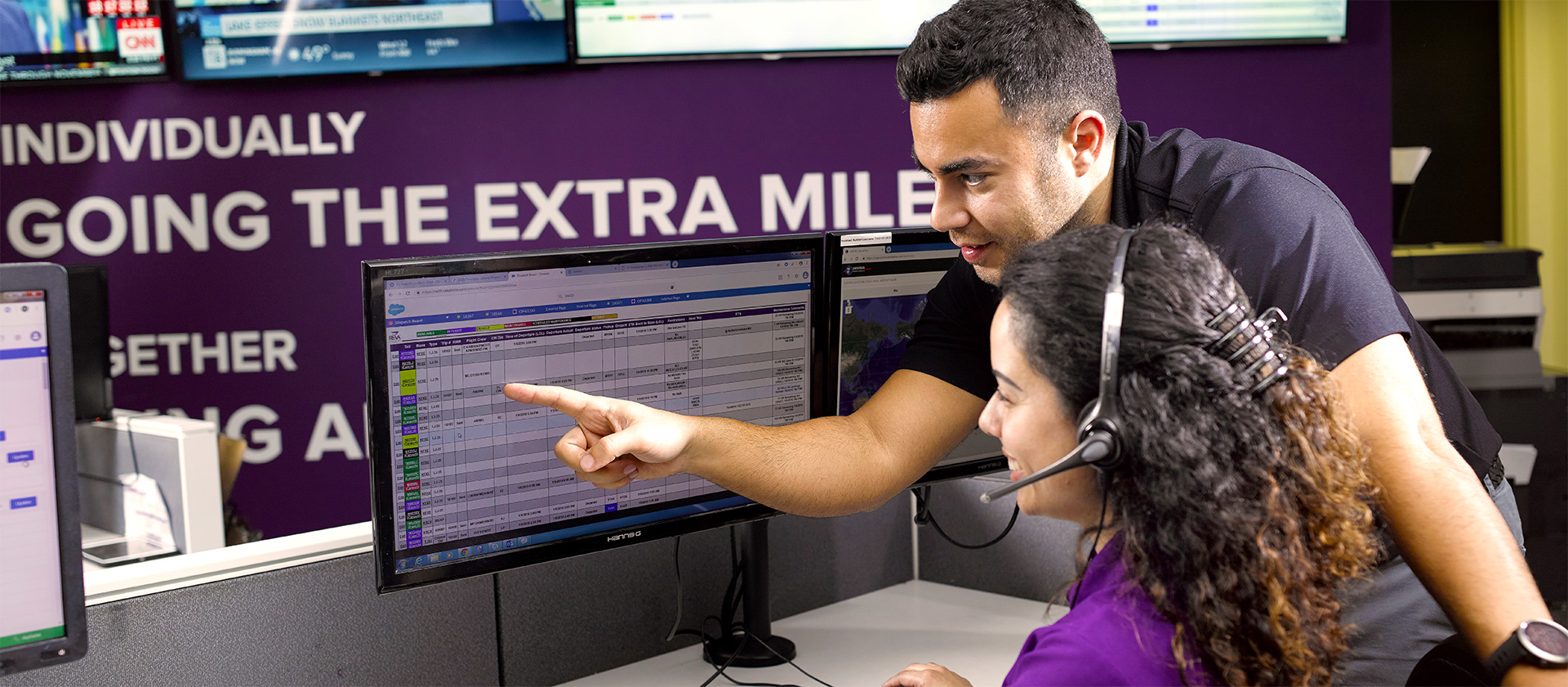 EXPERIENCE
Our medical professionals collectively have accumulated thousands of hours of experience in air-ambulance transport, critical care and emergency room response. PROFESSIONALS
REVA's medical team is staffed by highly qualified specialists in emergency care, including flight doctors, registered nurses, critical-care paramedics and registered respiratory therapists. CERTIFICATIONS
Intensive Care Unit, Cardiac Care Unit and Advanced Cardiac Life Support, Emergency Department Basic and Pediatric Life Support, Neonatal Resuscitation, Prehospital Trauma Life Support
"It is the sacred responsibility of every REVA medical professional to provide the finest care to our clients."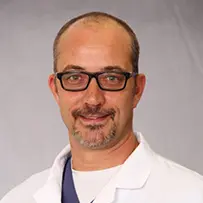 DAVID A. FARCY
MEDICAL DIRECTOR
David A, Farcy is one of the preeminent physicians in the highly specialized field of emergency care and critical-care medicine. Dr. Farcy, who joined REVA as its medical director in 2015, is the senior editor of Critical Care Emergency Medicine, which means he has literally written the book on emergency-care.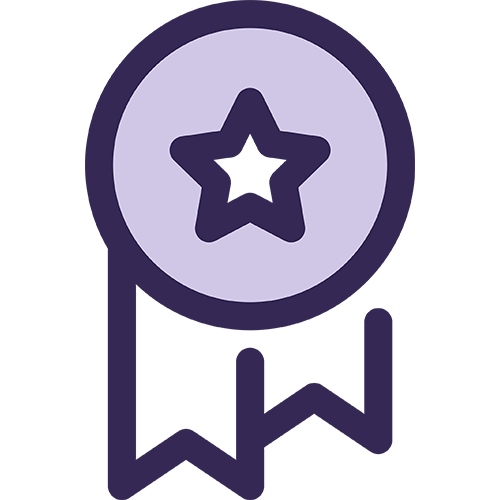 HIGHER STANDARDS OF EXCELLENCE
REVA's medical staff has the knowledge and expertise to provide excellent care to every client.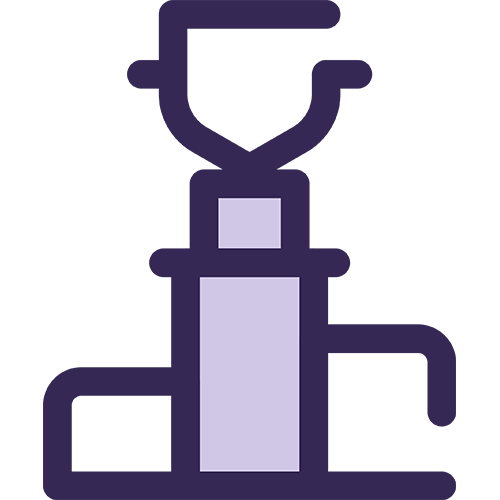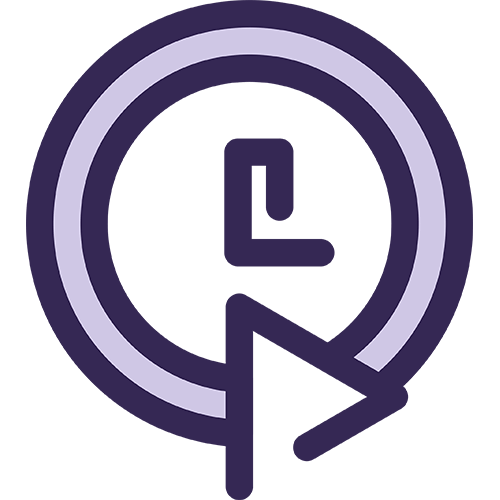 ONGOING AND INTENSIVE TRAINING
REVA requires its medical staff to take part in regularly scheduled training. REVA requires training and education that is ongoing on a daily basis and intensive in its approach.
Award-winning medical and aviation team

Largest air ambulance fleet in the world

Global coverage - we can get to you and get you home from anywhere in the world
Patient Advocacy - minimizing out-of-pocket costs for you

A network of well-traveled clinicians stationed across the globe

30 years of transporting patients
WHAT TO EXPECT
While you're transporting to another medical facility for burn and trauma injuries, you will receive the best care from REVA. We make sure your injuries stay stable for when you reach your destination. The medical crew taking care of you will ensure you stay comfortable and help if you feel pain or discomfort. You'll stay informed about the trip and the expected arrival time.
In addition to handling the air transport, we also arrange the ground transportation that will take you the rest of the way. Our highly advanced and efficient communications center runs 24 hours a day so clients can stay updated and our teams have efficient communication services.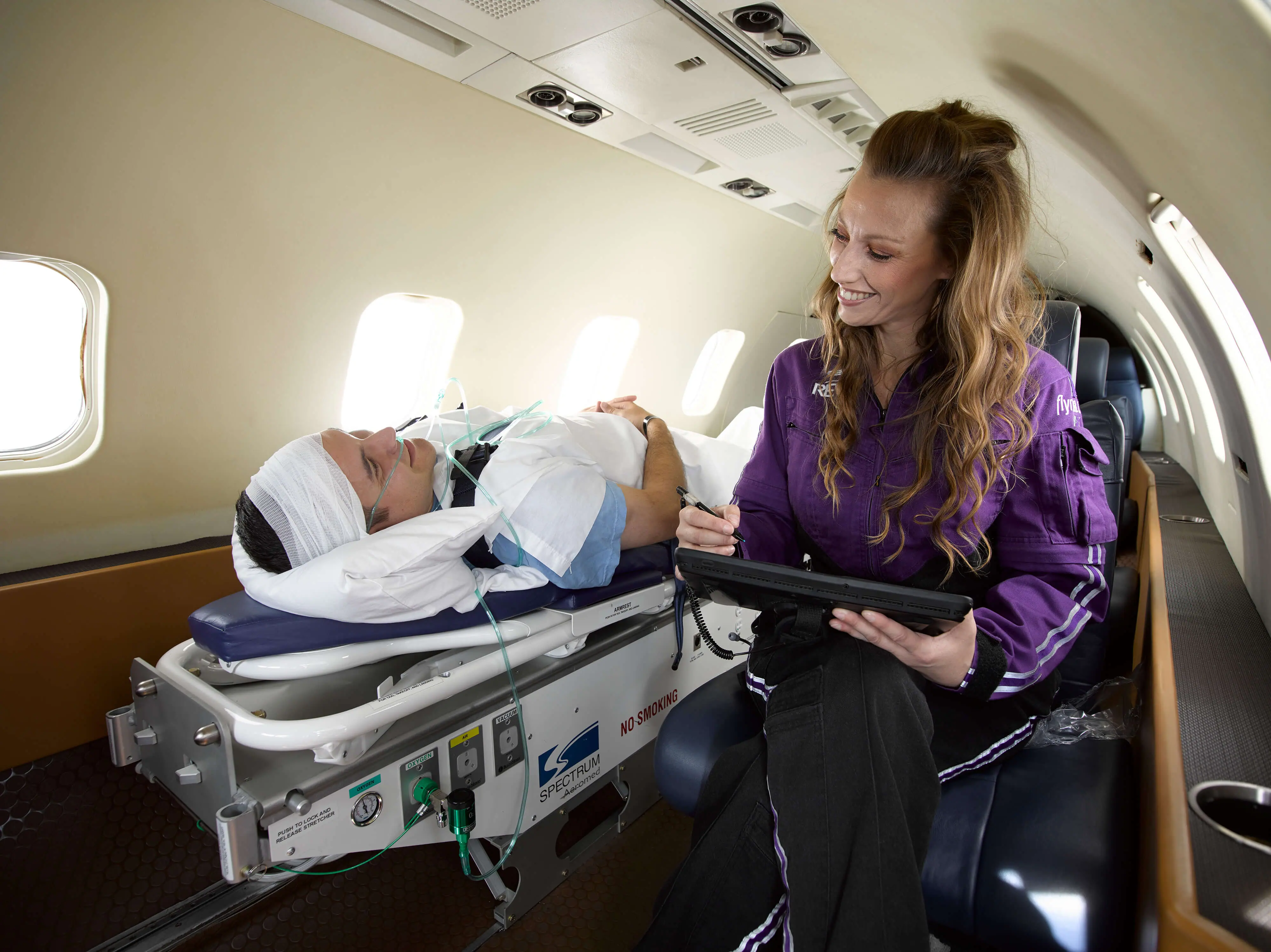 WHAT TO KNOW ABOUT TRAUMA AND BURN INJURIES
If you receive trauma or burn injuries, it's vital to take care of them as soon as possible to avoid infections. Having prior knowledge about burn and trauma injuries prepares you if you or someone else experiences them in the future. Here's what you should know about burn and trauma injuries.
BURNS - When you have burn injuries, it's vital to know what type of burns you have. The burn type determines the treatment you need and how quickly you should get care. There are three main burns — first, second and third-degree. The higher the degree, the more severe the burn. You can typically treat first-degree and most second-degree burns at home, though if the latter spreads over a wide area on your hands, face, feet or genitals, seek professional medical treatment.
If you have third-degree burns, you need to seek immediate medical treatment. Third-degree burns are the most severe and can result in nerve damage. When you have this type of burn, you may need surgery or proper cleaning treatment.
TRAUMA - Trauma injuries can occur from blunt, burn or penetrating forces. Medical treatment is vital whether you get into a motor vehicle collision, get hurt playing sports or receive other traumatic injuries. Trauma injuries have a scale of severity, so receiving medical treatment as soon as possible can help determine the damage and prevent infection, additional injuries and death.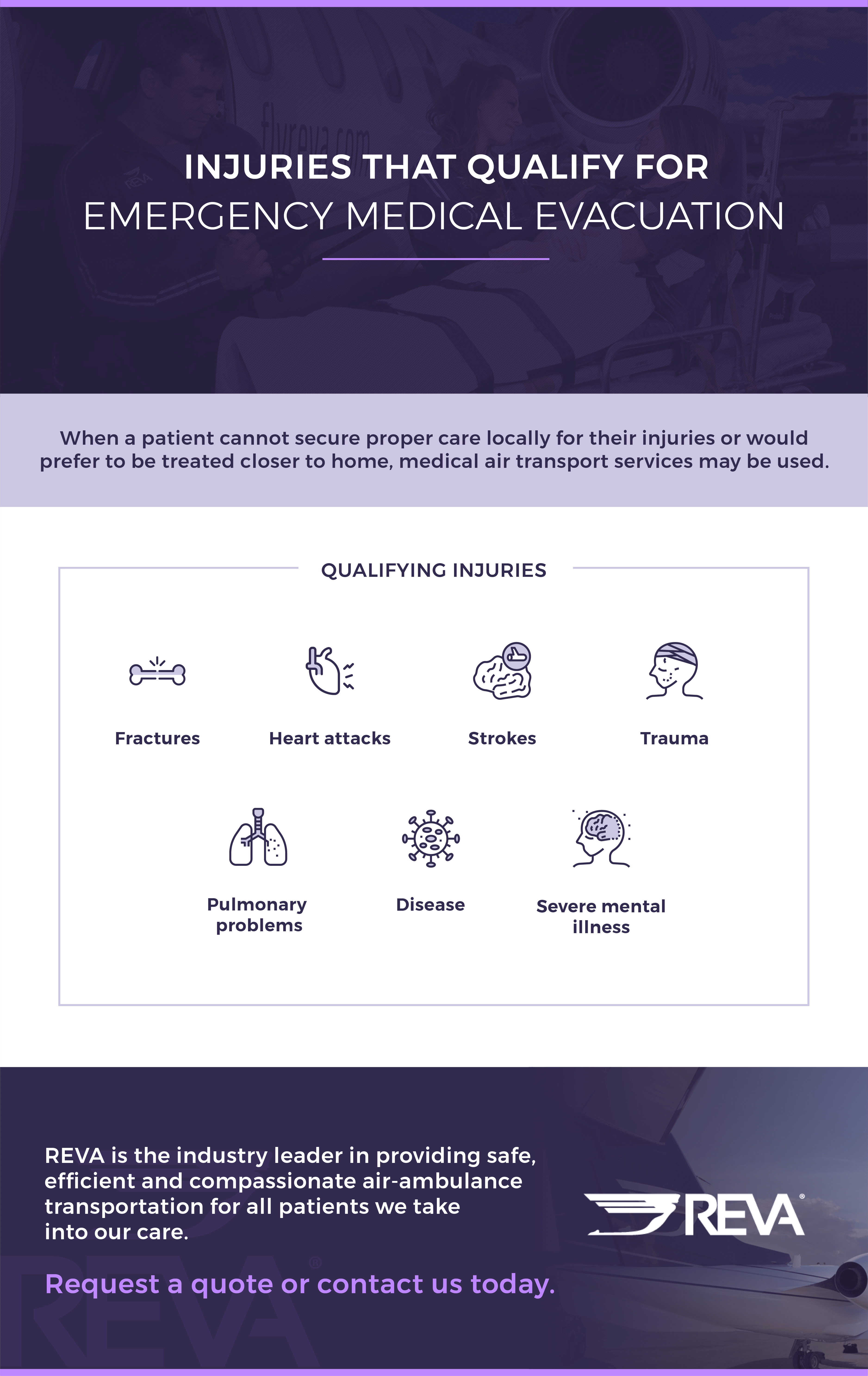 "Our crew is better at what we do than anyone else in the business. Period."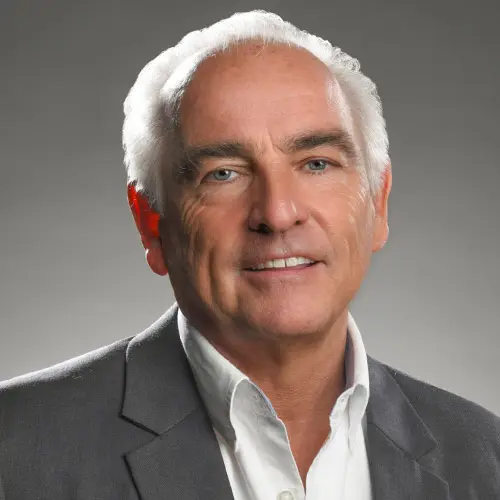 STEVE WILLIAMS
DIRECTOR OF MEDICAL OPERATIONS
Steve Williams is an on old hand, with more than 30 years' experience in emergency medicine. In other words, he's seen it before, he's done it before. He also currently holds the position of Team Commander of the FIU FAST Team, which is a disaster recovery team, and Deputy Team Commander for the federal government's Trauma & Critical Care Team South.
INSURANCE COVERAGE
When you book a flight with us, you don't have to worry about your insurance. We work with all major health carriers to determine the benefits and exclusions your insurance covers. While we establish what your insurance covers, we also prepare your documents for you. You can rest assured you'll receive the maximum benefits of flying with REVA quicker.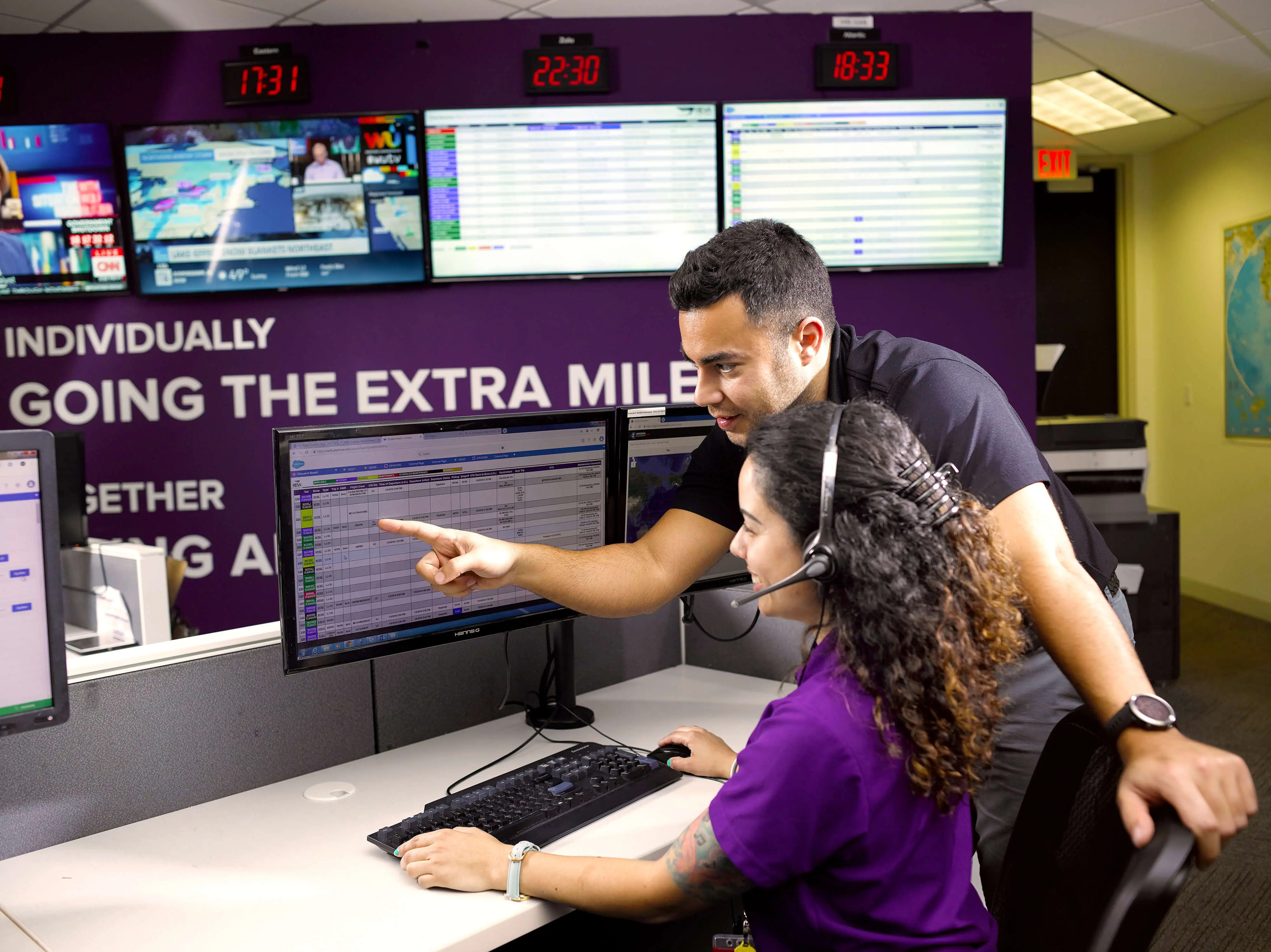 FIND US 24/7
Get help whenever you need it. Our Client Resource Managers are available 24 hours a day, seven days a week, 365 days a year. If you need help, don't hesitate to reach out to our team.
INTERNATIONAL
+1 954 866 4338