International Hospitals in St. Lucia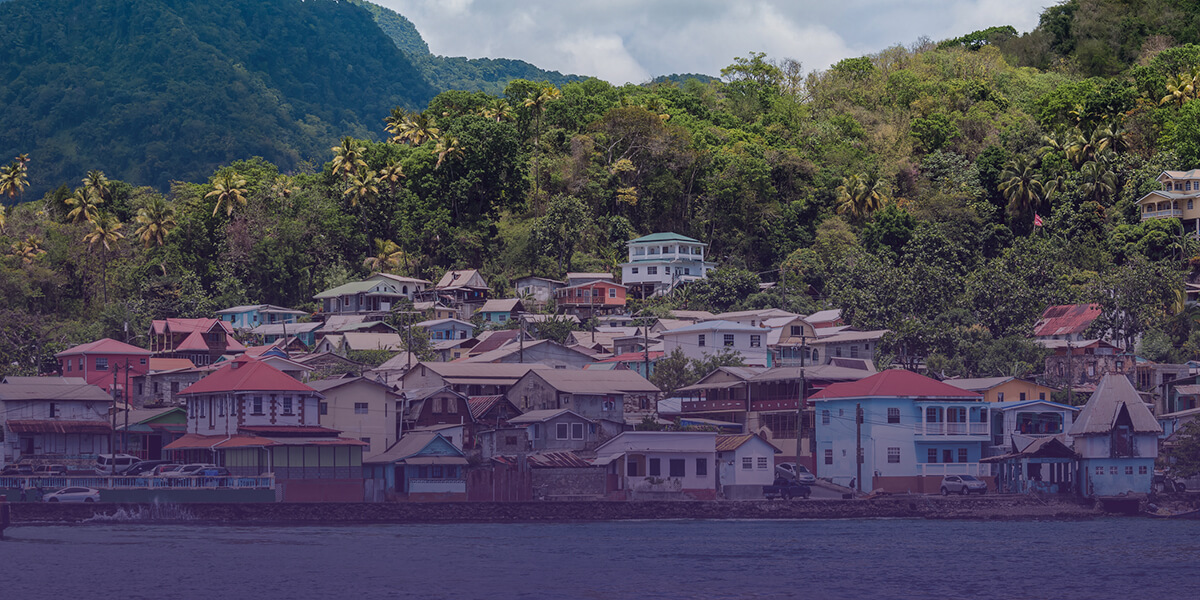 Getting medical help in St. Lucia is crucial if you experience an emergency while on the island. Learning about St. Lucia's medical system, available hospitals and emergency service options allows you to enjoy your time on the island with peace of mind. Keep reading to learn more about where to find English-speaking hospitals in St. Lucia.
Health Care for Travelers in St. Lucia
If you need to get medical care in St. Lucia, knowing where the best hospitals and health centers are located can help you receive care quickly. St. Lucia has five public hospitals and one private hospital. The island also has approximately 33 health centers for less-urgent medical needs.
St. Lucia started updating its hospitals in recent years, providing hospitals with modern equipment and amenities and increasing their capabilities. However, some St. Lucia hospitals and health clinics are less-equipped than facilities in other locations and countries.
St. Lucia fire departments provide ambulance services, but emergency response can be slow due to traffic. While you can expect to receive quality care at a health clinic or hospital in St. Lucia, you may need to evacuate to another island or the United States for specialized care.
Health Coverage in St. Lucia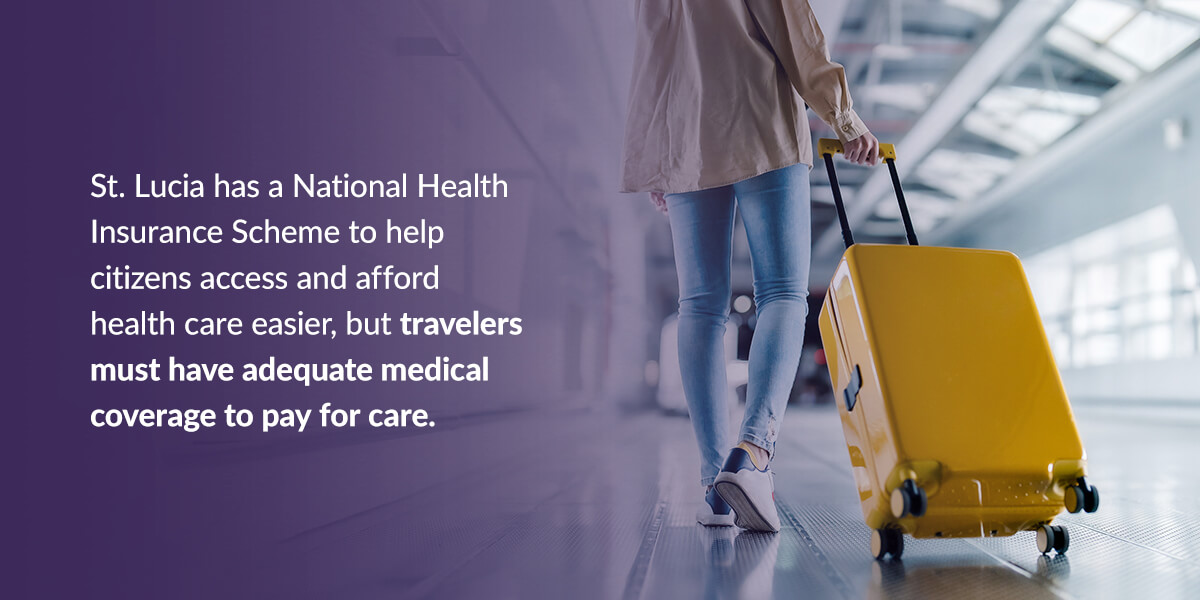 Health insurance is one of the most important considerations before traveling abroad. St. Lucia has a National Health Insurance Scheme to help citizens access and afford health care easier, but travelers must have adequate medical coverage to pay for care.
You should always sign up for travel health insurance, including medical flight transportation, in case of an emergency. The U.S. government doesn't provide overseas health coverage, but signing up for a policy that covers international health care and adding emergency flight evacuation coverage can help you avoid high costs in emergency situations.
Are There English-Speaking Hospitals in St. Lucia?
Individuals often wonder if they will be able to communicate with medical staff if they need to seek medical care while traveling abroad. You can expect to find English-speaking hospitals in St. Lucia, as English is the official language of St. Lucia. Many people speak Creole in St. Lucia, but you should still be able to easily communicate with your care providers if you become ill or injured while visiting the island.
Best St. Lucia Hospitals
If you become ill or injured while exploring the island's beautiful beaches and tourist spots, you can visit one of the following St. Lucia hospitals:
Tapion Hospital
Tapion Hospital is a private medical facility offering 24-hour emergency and accident care with the area's top doctors. This hospital is dedicated to providing high-quality, advanced medical care through a wide range of services.
Owen King European Union Hospital
St. Lucia's former Victoria Hospital became a respiratory center and transferred its hospital services to the newer Owen King European Union (OKEU) Hospital in Caries between 2018 and 2020. The European Union financed this transition, and the OKEU Hospital now offers emergency, outpatient and inpatient services.
It features state-of-the-art equipment, operating theatres, a laboratory, dedicated medical practitioners and an intensive care unit. You can access 24-hour care at the OKEU Hospital.
St. Jude's Hospital
St. Jude's Hospital is another public hospital, and it's located on the island's southern tip in Vieux Fort. St. Jude's Hospital strives to provide quality health care with modern technology and staff that adheres to international accreditation standards.
Additional St. Lucia Hospitals
St. Lucia also offers medical care at Soufriere Hospital and Dennery Hospital. While these hospitals can provide adequate medical care, they offer fewer services and are less equipped than St. Lucia's highest-quality hospitals. Soufriere Hospital offers overnight care for minor illnesses and injuries, and Dennery Hospital limits its services to outpatient care.
How to Prepare for a Medical Emergency Before Traveling to St. Lucia
Medical emergencies can occur wherever you are, so planning is essential. Preparing for medical emergencies before traveling allows you to enjoy your trip with peace of mind. Whether you travel for business or leisure purposes, emergency preparation helps your trip go smoothly.
Before reaching St. Lucia, you should note the following information and keep it with you:
Travel insurance policy: Print your travel insurance policy information and the company's contact information in case you need to file a claim.
Emergency number: St. Lucia's emergency number is the same as the U.S.'s, so you can dial 9-1-1 if you need ground ambulance transportation to the nearest hospital.
Air evacuation services: Air ambulance services are faster than ground transportation, allowing you to reach the nearest hospital faster or access a higher-quality hospital in another country. Air evacuation is also necessary if you become ill or injured in a remote location. You can call REVA at +1-877-861-7382 for immediate emergency transport assistance in St. Lucia.
Emergency contacts: Create a list of emergency contacts in case you need medical personnel to help you contact your family.
Medical information: Write down your medical history, such as chronic conditions and medication allergies, so emergency responders and hospital staff can provide the best care possible in an emergency.
Creating an emergency plan is also important. Before your trip, decide what you will do in case of an emergency. You can determine which hospitals are nearest to your hotel or the locations you plan to explore.
You may decide that you want to travel to another country or a hospital closer to home if you experience an illness or injury, so it's important to have air evacuation service information with you at all times. Communicate your plan with each person in your travel group so everyone understands what to do in an emergency.
Trust REVA With Your Medical Evacuation Needs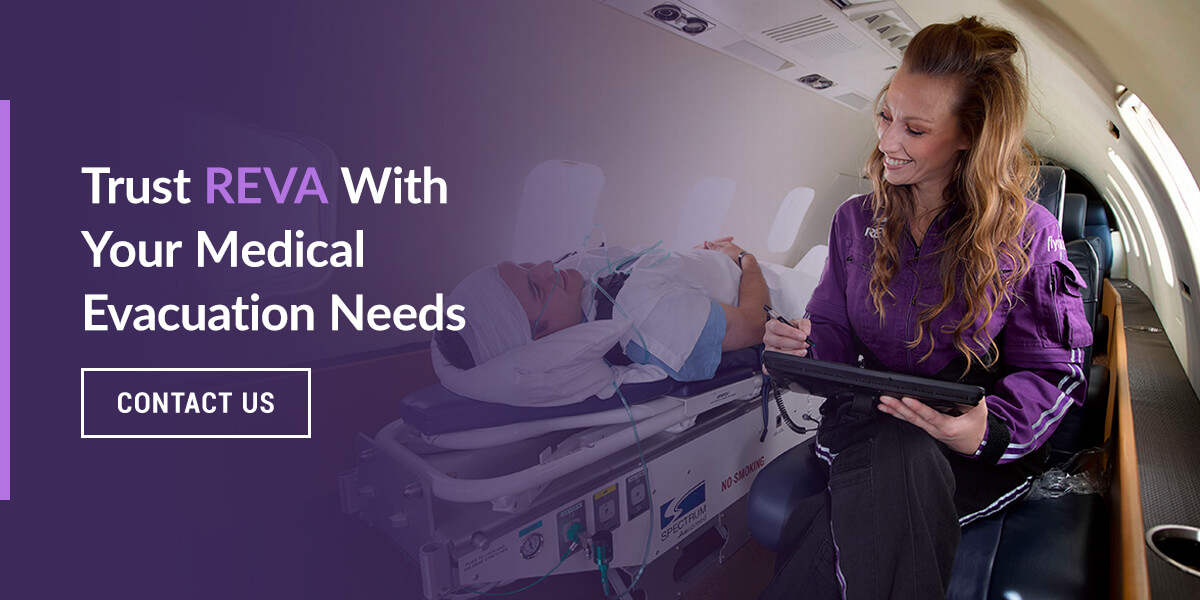 Medical emergencies can happen anywhere, and preparing for them is crucial when traveling abroad. If you experience a serious illness or injury while enjoying St. Lucia's stunning landscape, you deserve to receive the best care.
You can travel with peace of mind when you trust REVA with your medical flight evacuation needs. REVA offers air ambulance services to help you reach the nearest quality hospital, access specialized care in a better-equipped country or travel to your home country for medical care.
REVA is here for you when you need fast, safe and compassionate medical transportation. Our well-trained flight and medical teams transport you safely while providing quality care. Whether you need to reach the best hospital as fast as possible or want to transfer to a hospital closer to home, REVA can help you get there and care for your medical needs along the way.
Contact REVA to learn more about our medical flight services and request a quote.