Can You Fly With a Heart Stent?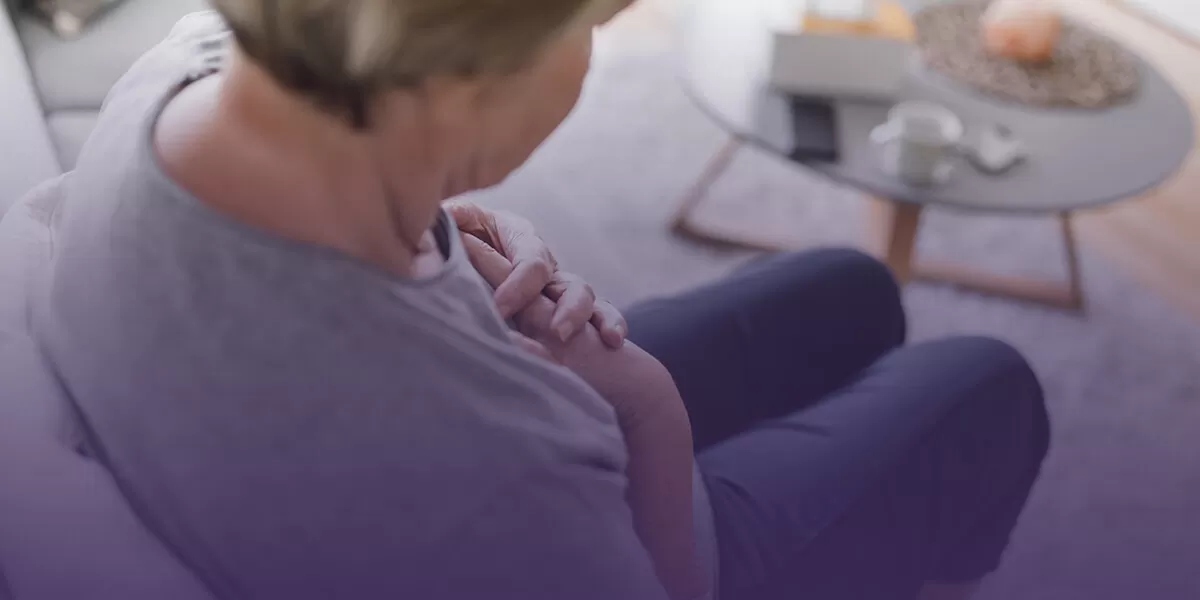 Traveling with a stent in your heart is possible if you take the right precautions. Long flights can increase the risk of blood clots due to cabin pressure changes, low oxygen concentration and passengers remaining immobile for long periods. Traveling with a medical escort, on an air ambulance or via a medical evacuation flight reduces complication risks, allowing individuals to fly safely and comfortably after a heart stent procedure.
What Is the Purpose of a Heart Stent?
Heart stent procedures are common among individuals with cardiovascular disease. Heart conditions can weaken arteries, restricting blood flow and requiring intervention. A heart stent is a mesh tube that holds narrow or weak arteries open, allowing oxygen-rich blood to flow through. It does not cure heart disease, so it's important for patients to practice healthy lifestyle changes.
Heart stents are for carotid and coronary arteries. If you need a heart stent procedure, your medical team may implant one of the following types of stents:
Drug-eluting stent: Drug-eluting stent manufacturers coat stents with medicine that gradually releases into the artery, preventing it from narrowing so it remains open. A drug-eluting stent is the most common stent for coronary arteries, and various types have different medicine coatings based on patient conditions and needs.
Biodegradable stent: Surgeons implant biodegradable stents when patients need temporary intervention. A biodegradable stent dissolves after a few months, eliminating the need for a second stent removal procedure.
Bare metal stent: A bare metal stent is a metal mesh tube surgeons use to open a coronary or carotid artery.
Stenting is a minimally-invasive procedure, and medical providers do not consider it a major heart surgery. Still, it's important to take precautions after a stent procedure.
Can Stents Cause Irregular Heartbeats?
A stent can cause an irregular heartbeat, which is also known as an arrhythmia. An irregular heartbeat causes the heart to beat too slowly, too quickly or with an abnormal pattern. Tachycardia is when the heart beats abnormally fast, and bradycardia is when the heart beats abnormally slow.
An individual may notice the following warning signs if they have an irregular heartbeat:
Chest pain
Dizziness or feeling lightheaded
Sweating
Shortness of breath
Slow or rapid heartbeat
Skipping heartbeats
Doctors can run tests to check if patients have arrhythmias, and they can restore normal heart rhythms with certain treatments. A doctor may recommend surgery, a pacemaker or medication to address an arrhythmia.
What Are the Necessary Precautions After a Stent in the Heart?
Rest is important after any surgery, but some procedures require more or less recovery time than others. You can resume your normal activities within a few days or a week following a stent procedure as long as your medical team approves it. Following precautions after a heart stent can prevent complications and help you maintain your health.
Physician Instructions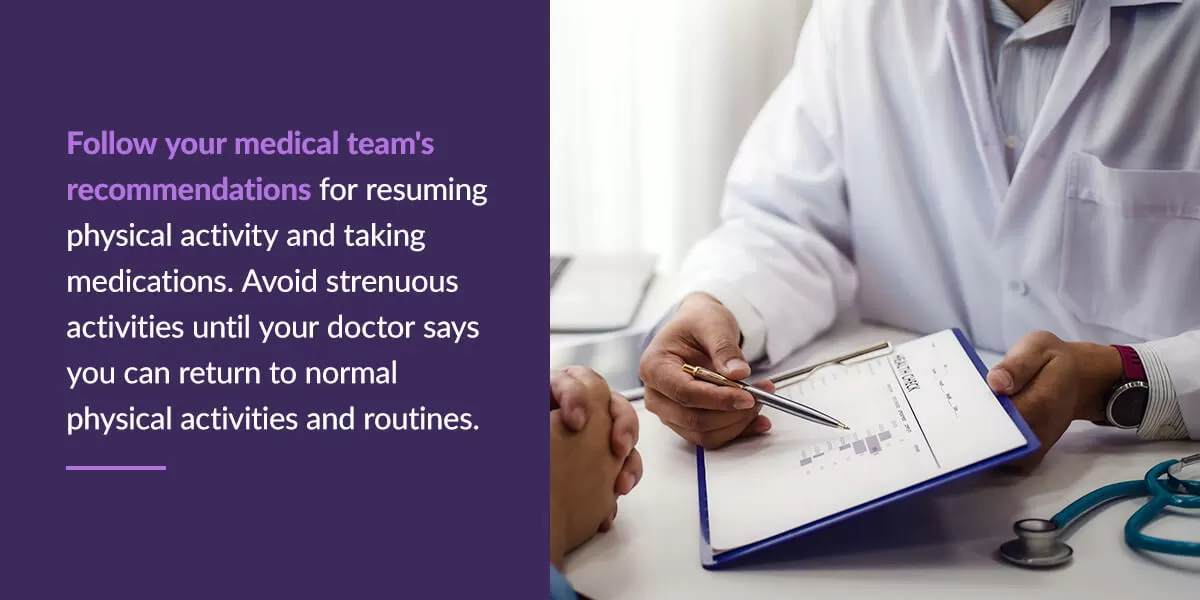 Follow your medical team's recommendations for resuming physical activity and taking medications. Avoid strenuous activities until your doctor says you can return to normal physical activities and routines. Take the medication your provider recommends or prescribes, and drink plenty of fluids.
Medication
Taking your medication is also essential for a safe recovery. Your doctor may prescribe a certain medication to prevent blood clotting because the risk for blood clots is highest during the first few months following a procedure. You may need to take anti-clotting medication for approximately one year after your stent surgery.
Follow-Up Appointments
It's also essential to attend your follow-up appointment after a stent procedure. The follow-up appointment is crucial for a successful recovery after a stent procedure because it allows your doctor to identify and address the following complications if they arise:
Irregular heartbeat
Blood clots
Discomfort or bleeding at the catheter insertion site
Infection
Blood vessel damage from the catheter
Allergic reactions to contrast dye
Surgeons use contrast dye to see blood vessels on an X-ray, and some individuals can experience an allergic reaction to the dye. In rare cases, the dye can damage kidneys. Doctors have the knowledge, experience and resources to address these complications.
Can You Travel With a Stent in Your Heart?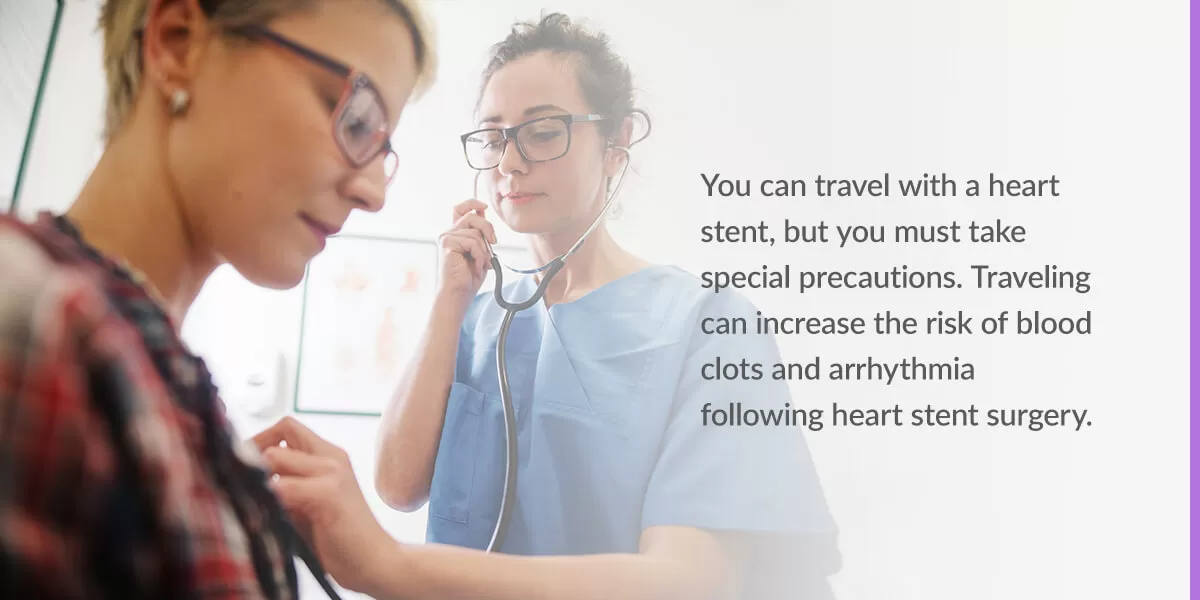 You can travel with a heart stent, but you must take special precautions. Traveling can increase the risk of blood clots and arrhythmia following heart stent surgery.
Consulting with your doctor before traveling with a heart stent is crucial because they can tell you when it's safe for you to travel and recommend safety precautions. It's important to carry any prescribed or over-the-counter blood-thinning medication your doctor recommends.
Can You Fly With a Stent in Your Heart?
You can fly with a heart stent if you take special precautions and fly with the appropriate support. You can fly after a stent procedure on a commercial airline if your doctor permits it and you travel with a medical escort.
A commercial airline with medical escort assistance is typically safe if your procedure causes no complications and you wait the required time following the procedure. A medical escort can help you board and exit the aircraft, monitor your condition throughout your entire flight and administer care if any complications arise.
An air ambulance is the safest travel option if you need to fly immediately after a stent procedure or transfer to a different hospital to handle complications following a procedure. An air ambulance is a private medical flight fully equipped with essential medical equipment, supplies and an experienced medical team.
How Soon Can You Fly After Having a Stent Fitted?
Patients can typically resume normal, non-strenuous activities approximately one week after a stent procedure. An air ambulance is the best option if you need to fly sooner than a week following stent surgery.
Is It Safe to Fly After a Stent Procedure?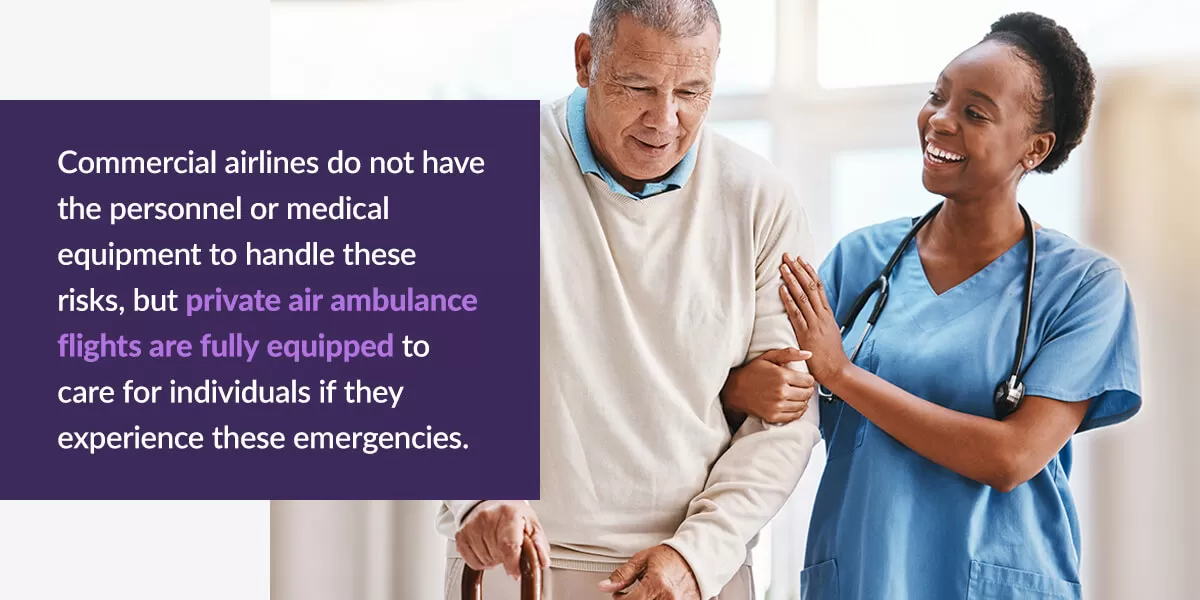 Flying after a stent procedure is safe if you make the appropriate travel arrangements. When flying after a stent replacement or implantation, it's important to consider potential heart stent risks.
A commercial aircraft's cabin pressure changes can reduce the body's oxygen level, increasing the risk of blood clots or deep vein thrombosis. Commercial air travel increases the risk of blood clots because the cabin's low air pressure causes slower blood flow. This is an increased risk following heart stent surgery because the procedure increases the risk of blood clotting, and remaining immobile during a long flight also slows blood flow.
Blood clots can be life-threatening if they travel to the heart or lungs because they block blood flow, increasing the risk of a heart attack or stroke. Commercial airlines do not have the personnel or medical equipment to handle these risks, but private air ambulance flights are fully equipped to care for individuals if they experience these emergencies. A medical escort can also assist in emergencies if individuals need to fly commercially.
How to Fly Safely After a Stent Procedure
You can fly safely after a stent procedure by ensuring you take special precautions and travel with proper support and assistance. Consider the following precautions before planning post-surgery travel:
1. Determine the Safest Transportation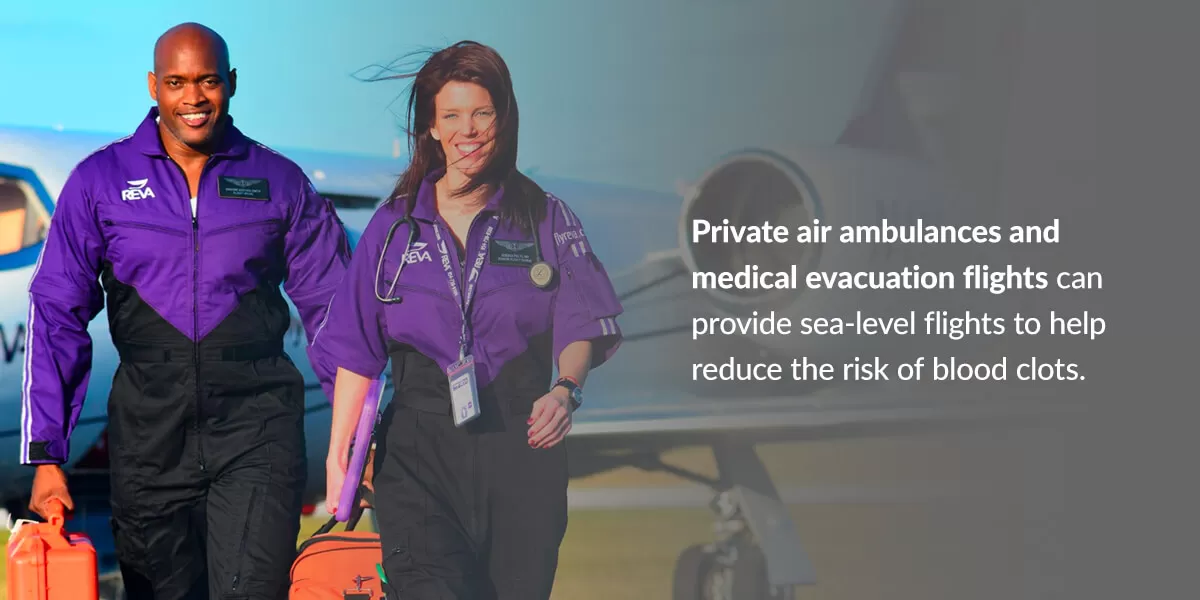 Determining the safest transportation option is the first step to planning a successful post-surgery flight. Consult with your doctor before arranging plans, and ask them if they recommend medical escort services on a commercial airline or air ambulance services via a private medical airline.
Private air ambulances and medical evacuation flights can provide sea-level flights to help reduce the risk of blood clots. Pilots adjust the cabin pressure during sea-level flights to ensure passengers maintain stable oxygen levels. A sea-level flight through a private medical flight company may be the best option if you are prone to blood clots.
2. Wear Compression Socks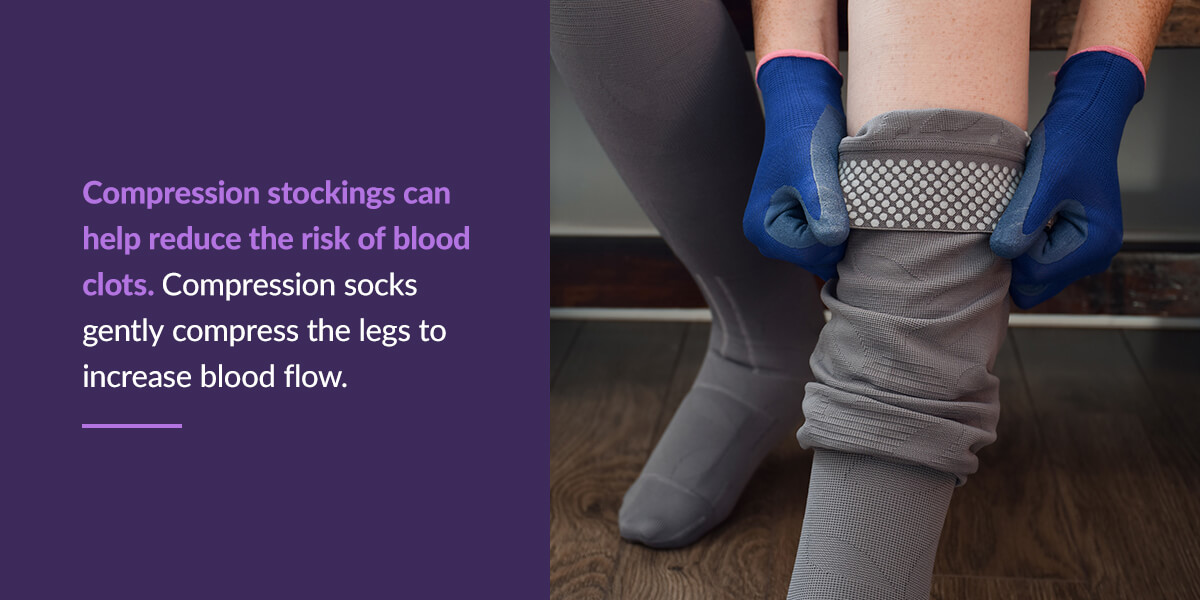 Compression stockings can help reduce the risk of blood clots. Compression socks gently compress the legs to increase blood flow. Wearing compression socks on a long flight can help maintain proper blood flow while you remain immobile.
Moving around can also help prevent blood clots. The American Heart Association recommends walking around periodically if you have to sit on a long flight.
3. Take Prescribed Medication With You
Any medication your doctor prescribes or recommends after a stent procedure is important for your recovery. You must continue taking this medication for as long as your doctor instructs you to, so you should always have it with you while you travel. Pack your medication in a carry-on or personal bag if you fly on a commercial airline so you can take it at the proper times.
4. Avoid Strenuous Activity
Avoiding strenuous activity is important after surgery, so you should remember to avoid it while traveling. Allow your medical escort or private air ambulance team to carry your heavy luggage so you don't over-exert yourself while boarding and exiting the aircraft.
5. Create an Emergency Contact List
Create an emergency contact list before traveling. Your list should include the contact information for any family or friends you want someone to notify if you experience an emergency. It should also list your primary physician's contact information so medical providers can reach them if necessary.
6. Inform Your Travel Companions About Your Medical History
The loved ones and medical personnel you travel with should know about your medical history. Tell them details about your health condition, recent procedures, allergies and specific medical needs before boarding your flight. This information helps medical providers administer the most effective care if a complication occurs. It's also important to ensure you carry your stent card with you at all times.
Why Do You Have to Carry a Stent Card?
A stent card contains information about a patient's stent. It indicates the stent's type, size, procedure date and type of vessel the surgeon placed it in. A stent card is essential because it gives medical providers the information they need to make care, treatment and surgical decisions. Keeping this card with you during your travels ensures you and the people you're with can access information about your stent quickly.
Safe Air Travel Options After a Stent Procedure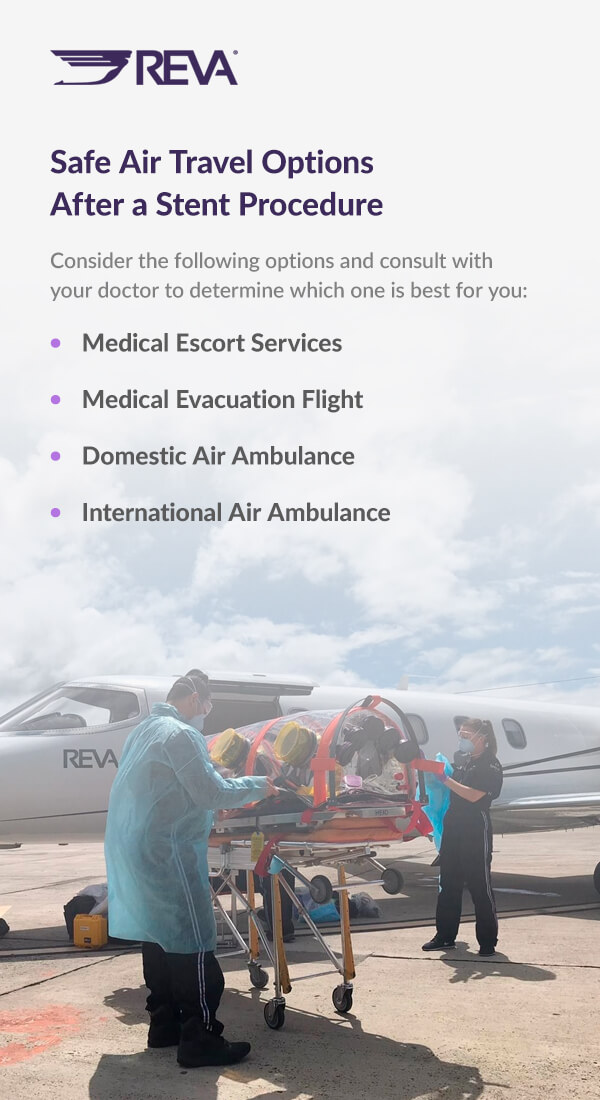 Various air travel options provide the right medical personnel and equipment to keep individuals safe while traveling. Consider the following options and consult with your doctor to determine which one is best for you:
Medical Escort Services
An experienced medical escort can accompany you on a commercial flight for increased safety. Medical escorts have the knowledge and experience to monitor health conditions and administer necessary care. They also help you reach your flight, board and exit the aircraft, and carry necessary medical equipment.
Medical Evacuation Flight
Medical evacuation flights transport individuals to the nearest hospitals when emergencies occur. If you recently had heart stent surgery and you find yourself in an emergency situation far from medical facilities, a medical evacuation flight can help you reach the nearest hospital quickly.
Domestic Air Ambulance
A domestic air ambulance flight can transport you across long distances within the United States. Domestic air ambulance services are ideal if you need specialized care in a different hospital. Whether you need to see a specialist or want to travel for higher-quality care, a domestic air ambulance team can help you transfer between hospitals quickly and safely.
International Air Ambulance
International air ambulances offer transportation to and from hospitals worldwide. An international air ambulance is the best transportation option if you undergo heart stent surgery abroad and must reach a hospital closer to home.
Whether you want to reach a country with higher-quality hospitals or wish to receive care from your primary physician, an international air ambulance can take you where you need to go.
Benefits of REVA's Medical Air Travel Options
REVA offers medical escort, domestic air ambulance, international air ambulance and medical escort services. When you book a medical escort or flight with REVA, you can travel with peace of mind because of the following benefits:
Safety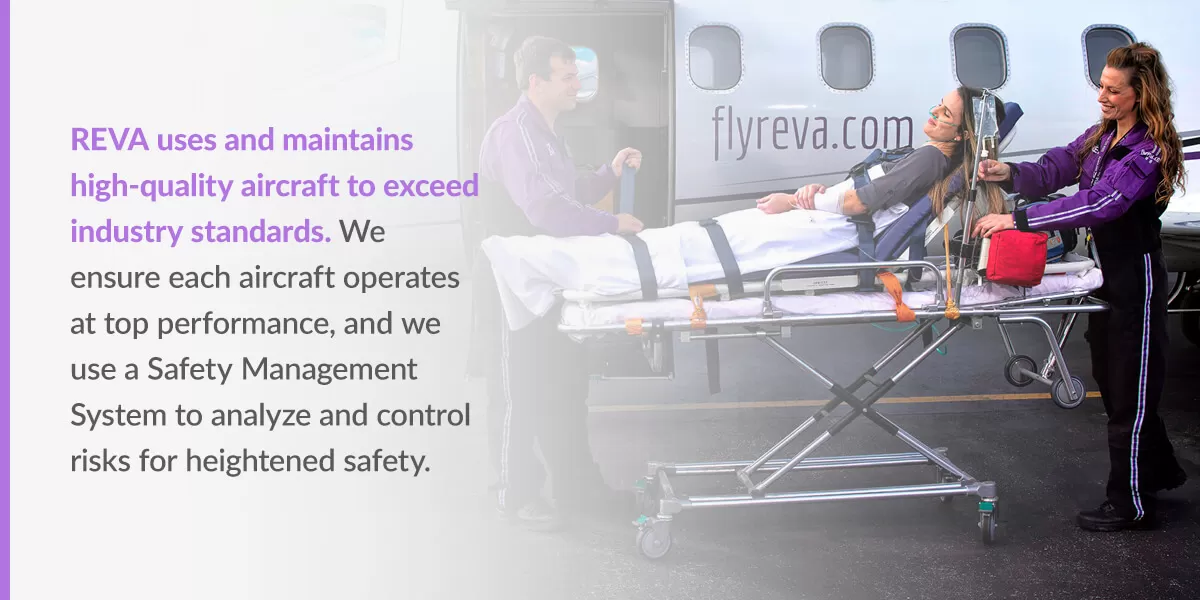 REVA uses and maintains high-quality aircraft to exceed industry standards. We ensure each aircraft operates at top performance, and we use a Safety Management System to analyze and control risks for heightened safety. This system allows us to exceed International Civil Aviation Organization, Federal Aviation Administration, and Occupational Safety and Health Administration guidelines.
We proactively approach safety issues and prioritize risk management to provide the safest medical transportation possible. We have earned the following safety awards due to our dedication and strict standards:
A.C.E. Safety Award
Department of Defense Patriot Award
I.T.I.J. Air Ambulance Company of the Year
A.A.M.S. Fixed-Wing Award of Excellence
Fully Equipped Aircraft
REVA's aircraft are fully equipped to serve as critical-care units. These state-of-the-art air ambulances contain the necessary medical equipment and supplies to provide life-saving care during transport. With custom stretcher bases and various medical capabilities, we provide the right aircraft and the right equipment for each client.
Global Capabilities
REVA's flight and medical crews can reach distant locations and remote areas. We have four operation bases in North America, Europe and the Caribbean, providing convenient departure points to nearly any location. You can depend on REVA no matter where you experience a medical emergency.
Experienced Flight and Medical Personnel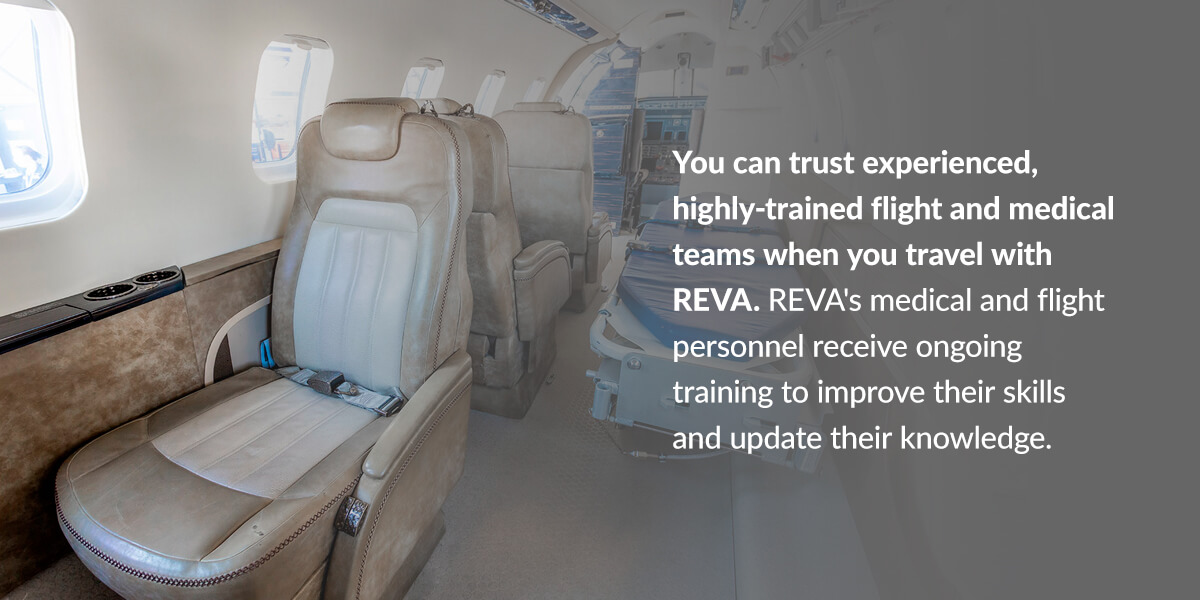 You can trust experienced, highly-trained flight and medical teams when you travel with REVA. We are dedicated to exceeding industry safety standards with exceptional training processes. Our teams have the education and experience to provide exceptional transportation and life-saving care.
REVA's medical and flight personnel receive ongoing training to improve their skills and update their knowledge. Our medical teams engage in demanding training on an annual, quarterly and weekly basis, and our aviation teams receive training from dedicated in-house instructors. We also partner with Flight Safety International to ensure our aviation professionals receive detailed aircraft-specific eLearning training.
Ground Transportation Arrangements
REVA's teams ensure you remain safe and comfortable throughout your entire journey. Whether you fly commercial with one of our medical escorts, request a private air evacuation or schedule an air ambulance flight, we arrange ground transportation to make the process easy. One of our medical teams can pick you up, help you board your flight and transport you to your next destination after landing.
Insurance Assistance
You can focus on recovery while REVA handles your insurance details. Our Revenue Cycle Management Team takes care of the following details for you:
Verifying your insurance policy's benefits
Gathering information and explaining your financial options to you
Requesting pre-authorizations through our on-staff physicians
Preparing insurance claims after the service is complete
Following insurance claims until the payment processes
Reviewing and appealing any service denials
Providing legal representation to help you manage claim rights
REVA works with major group health carriers to identify coverage, benefits and exclusions. We are an in-network air medical transportation provider for Blue Cross Blue Shield of Florida®, Humana® and Medicare. Our team navigates the reimbursement marketplace to help you determine the best payment options while you heal.
How to Request Medical Air Transportation
You can talk to REVA's compassionate team to request medical escort services, private air evacuation or air ambulance transportation. If you need assistance, you, a caregiver or a case manager can request a quote online or call REVA at 877-861-7382 or 800-752-4195 to request transport.
Our team coordinates all essential aspects, such as travel and clinical documentation, flight and medical crews, ground transportation and insurance verification. We then send a highly-qualified medical and flight team to transport you bedside-to-bedside.
Trust REVA With Safe Air Transportation After Heart Stent Surgery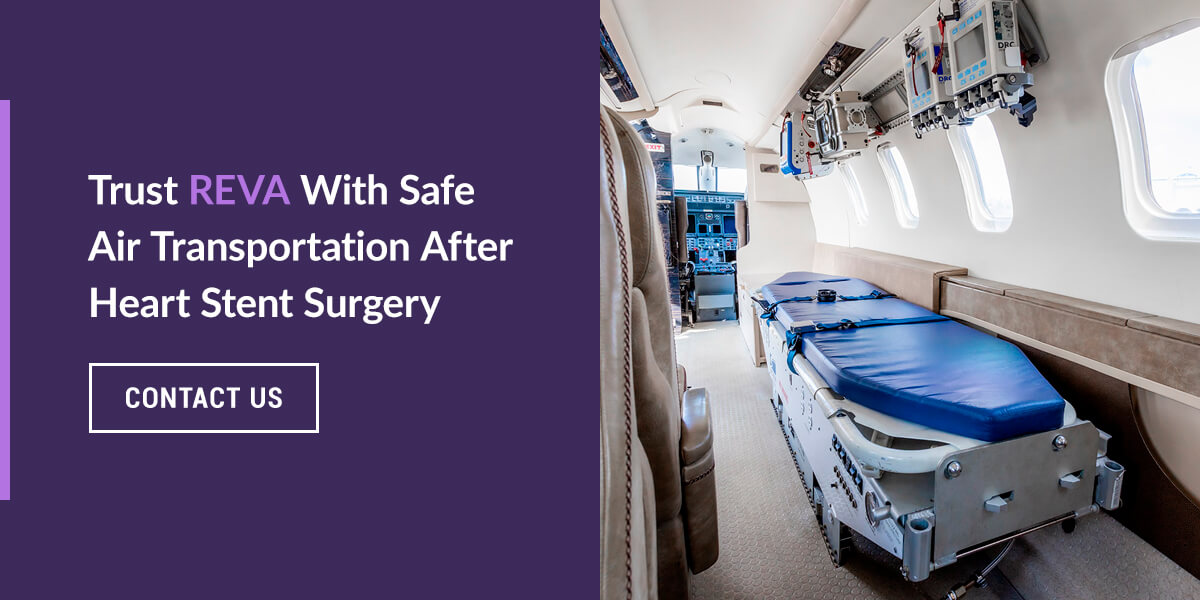 Flying with heart problems can increase the risk of blood clots, so taking precautions when flying after a stent procedure is crucial. Traveling with medical support and assistance allows you to reach your destination safely. You can fly with a medical escort, request a medical evacuation flight or schedule an air ambulance to receive medical monitoring and intervention if necessary.
REVA offers medical air transportation services so you can travel with peace of mind. Our medical and flight teams are highly trained and dedicated to transporting you in comfort and safety. Contact REVA to request a quote or learn more about our medical flight services.