How Much Does an Air Ambulance Cost?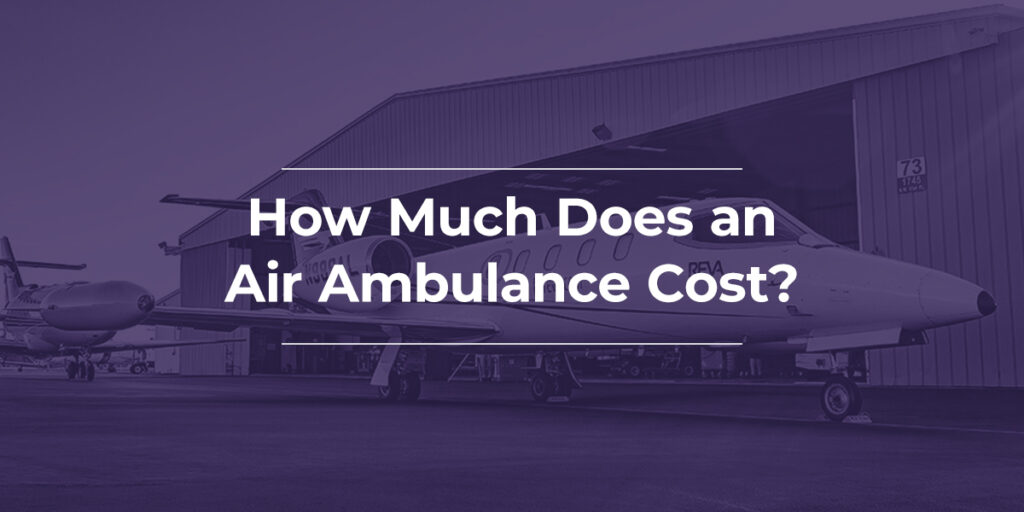 Emergencies happen. And when they do, you or a loved one may require transportation to get the help you need. In some instances, you may be able to drive yourself or your loved one to the nearest hospital. But some unexpected circumstances can be less than ideal.
When someone needs to get the help they need faster than a car ride will allow, they'll need an ambulance. Many people are familiar with ground ambulances, but air ambulances are also a critical option in many emergencies. They transport patients through the air, and many patients use them when traveling abroad to receive treatment in a hospital closer to their homes.
But how much do air ambulances cost? Medical air transport cost estimates can be extremely high. It's important to know the factors that influence these costs so you can charter the right air ambulance flight and avoid hidden or unexpected fees.
Why Can Air Ambulances Be So Expensive?
One of the main reasons air ambulances are so expensive is due to the federal government's failure to regulate prices. According to a 2018 report from CNN, the federal government of the United States stripped states of their right to control routes and airfares back in 1978. But this had an unexpected consequence. It stopped states from being able to protect their citizens from having to pay a high medical transport cost when using an air ambulance.
To their credit, the federal government has put some structure in place to protect the wallets of its citizens. For instance, a New York Times article from 2019 points out that it is unlawful for air ambulance companies to charge hidden fees to anyone who pays for some or all of their ambulance flight through Medicare. But the same article found that many air ambulance companies are open about why they charge such high prices to their privately insured clients, which is something they often get away with.
The article states that around seven in 10 air ambulance patients have some form of Medicare, and air ambulance companies feel these patients underpay for their services. Medicare patients pay around $6,500 for an air ambulance flight, while the average cost for such a trip usually costs at least $12,000. The New York Times article claims that air ambulance companies will increase the price for privately insured clients since they can get away with charging them hefty hidden fees.
Stats from the Health Care Cost Institute show the extent to which the average cost of air medical transport has increased over the years. And signs point to this average cost continuing to increase.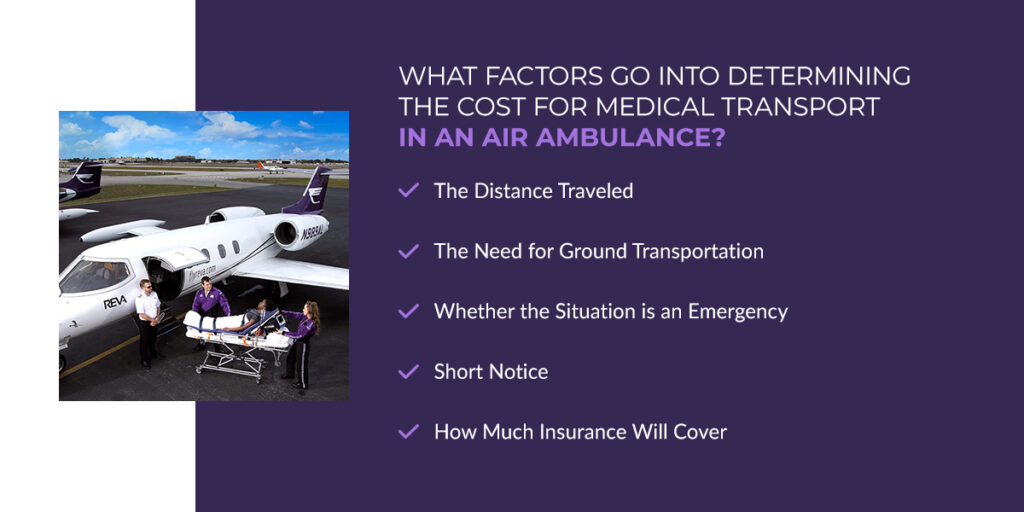 What Factors Go Into Determining the Cost for Medical Transport in an Air Ambulance?
Many factors influence the price one might have to pay for an air ambulance, and everyone's cost is different depending on several factors. Below, you'll see some of the factors that affect air ambulance costs.
1. The Distance Traveled
The flight route can influence the price the patient pays for their air ambulance trip. You can determine the flight route by finding the distance between the departure point and the final destination. It stands to reason that a flight between two cities in the same state will cost less than a flight route that passes through several states to reach the destination. Long-distance medical transport costs include time in the air, the wages of crew members during that time and the fuel used in transit.
Note that every case is different. Most air transport companies calculate the price they charge the patient based on several factors plus the number of miles flown on the flight route. This means that a long flight could cost less than a shorter flight in some unique circumstances. Keep reading to see some other factors that go into the final price.
2. The Need for Ground Transportation
Whether you need ground transportation on either side of your flight will influence the mileage fees you pay. This can include getting a ground ambulance to take the patient from the hospital to the air ambulance, or transporting the patient from the air ambulance to their final destination after the flight.
Note that it can be hard to determine the cost of ground transportation beforehand, especially if the patient is abroad. The distance the ground ambulance needs to travel will also influence this added cost.
3. Whether the Situation Is an Emergency
A non-emergency medical air transport cost may be less than the same distance flight in an emergency. Several reasons account for this:
Higher-paid medical staff to care for the patient during the flight
Life-saving medical equipment and the energy needed to run said equipment
The need to fly closer to sea level for a safe cabin pressure, increasing the duration of the flight
If your medical condition is not an emergency, then you may have a lower cost for your air ambulance transportation needs.
4. Short Notice
Like most services, booking your air ambulance flight in advance could lead to lower prices. One of the main reasons for this is the location of the patient compared to the location of the air ambulance when the request is processed. When a patient books their air ambulance flight in advance, the company may be able to secure an aircraft and pilot closer to the patient's location. This can lead to lower prices.
Conversely, a short-notice request puts the air ambulance company in a different situation, especially in an emergency. The company will match the patient with the soonest available air ambulance. If this aircraft is far from the patient, that initial travel time may result in more money coming out of the patient's pocket.
5. How Much Insurance Will Cover
One of the biggest influences on how much you'll pay for your air ambulance flight is your insurance company. If your flight is outside of your insurance provider, then you could find yourself paying for the entire amount. Even if the flight is within your coverage, you still may end up paying a high price depending on your policy.
Talk to your insurance provider about insurance costs and how much they will cover in the event of an air ambulance situation. If you need to, consider changing your policy to cover more of that cost. Or you can seek an air ambulance provider that is compatible with your insurance provider.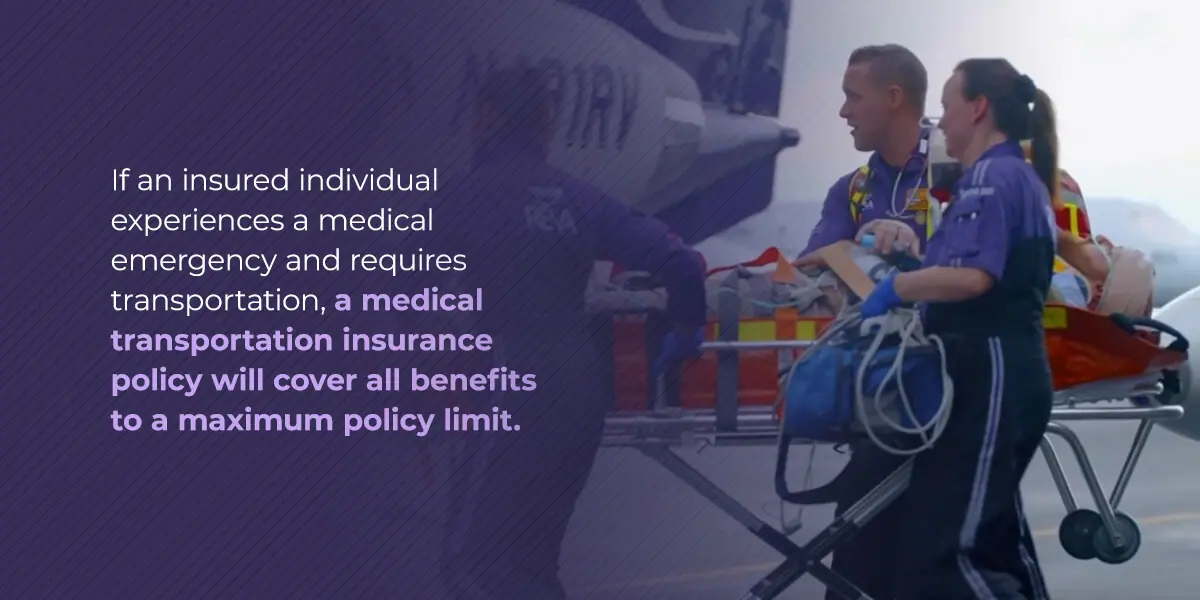 Why Is It a Good Idea to Invest in Air Ambulance Coverage?
If an insured individual experiences a medical emergency and requires transportation, a medical transportation insurance policy will cover all benefits to a maximum policy limit. Medical transportation insurance differs from health insurance because it only covers expenses associated with medically required travel.
Your policy can also cover additional services such as:
Assistance in planning and booking travel arrangements.
Booking flights for friends or family members to the medical care facility where you are receiving care.
Arranging ground transportation at departure and arrival points.
Identifying requirements for a medical escort and appropriate air transportation.
Coordinating admission at a medical facility.
Handling immigration clearances.
Our Trusted Air Ambulance Services
When you choose REVA for your air ambulance needs, you can rely on our team to deliver trusted solutions. Our simple process makes it easy to receive help faster:
Call: If you are facing a medical crisis, you, your case manager or your caregiver can contact the REVA team to request transportation services to or from an emergency room or another care facility.
Confirm: Our team will confirm your medical situation and take care of all logistics, from completing travel documentation to arranging medical crews.
Complete: With an industry-leading team of flight nurses, you can trust us to get you to your destination quickly and safely.
You can rely on our team to coordinate all details of your medical transport for greater peace of mind. Our comprehensive service offerings include the following to make your journey secure and seamless:
Ground transportation: We will arrange ground transportation to and from our plane to ensure you are safe and comfortable.
Insurance coverage: Our team is well-versed in the insurance process and can handle coverage requirements, identify financial options and prepare documents. We can also assist in the insurance claim process for patients.
Coordination of our medical team: If a patient needs medical assistance throughout their flight, we will coordinate the appropriate medical personnel throughout the journey to offer optimal care from start to finish.
Request a Quote for an Air Ambulance Through REVA Today
REVA is ready to help you get the air ambulance help that you need for your situation. We provide compassionate and efficient air ambulance travel anywhere you need it, whether you need to fly across the state, the country or the world. We handle all aspects of the process, so you can enjoy more peace of mind. Our goal is to make acquiring an air ambulance easy and affordable.
Request a quote online for our price information today and take the next step toward getting the air ambulance flight you need.