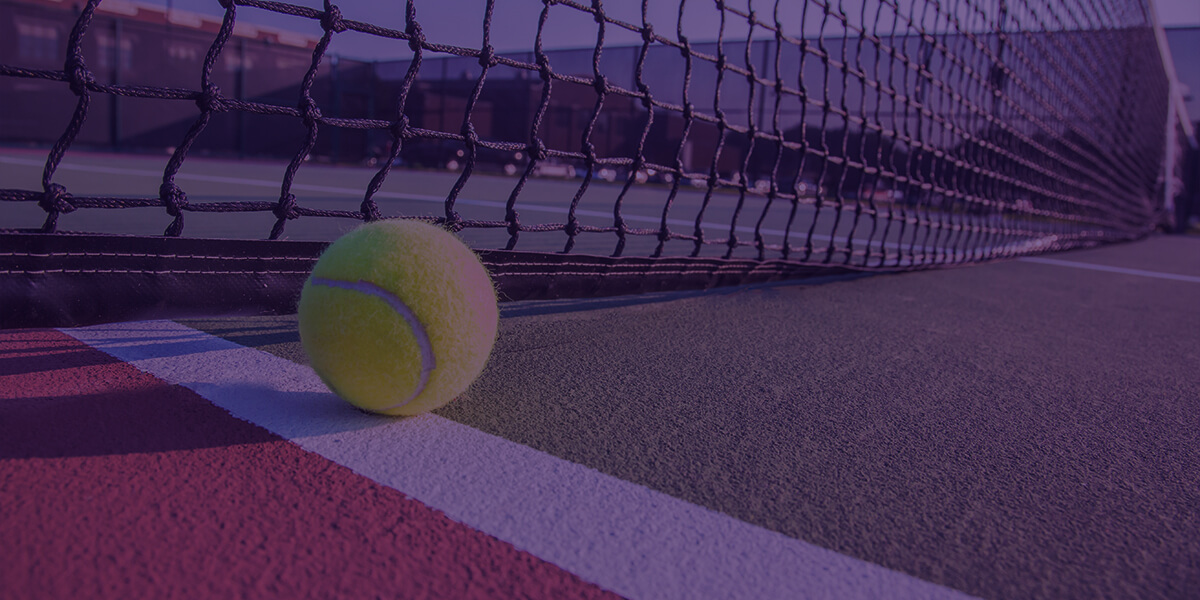 Attending the U.S. Tennis Open is an unforgettable experience, and planning your trip makes it even more enjoyable. From transportation to lodging, working out each detail allows you to relax and enjoy the event when you arrive. Traveling to the U.S. Open is simple with some helpful tips.
How to Obtain Tickets to the U.S. Open
The U.S. Open Tennis Championships are at the Louis Armstrong and the Arthur Ashe Stadium. You can purchase tickets online or in person at one of the two stadiums starting the first week of June. You can obtain tickets online via the U.S. Open website or an online ticket marketplace such as Ticketmaster, Stubhub or Vividseats.
The U.S. Open's website features ticket packages granting access to several match sessions. Purchasing directly from the website when tickets go on sale can significantly benefit tennis fans. Standard tickets sell out rapidly, but you can typically buy tickets for Ashe Stadium's Promenade section throughout the summer.
If you are an avid tennis fan, a Grounds Admission pass is an excellent option. These passes grant access to each field court, the Grandstand and the Louis Armstrong Stadium for the event's first eight days. You can purchase them in advance or on the tournament's first day.
If standard Ashe or Louis Armstrong Stadium tickets sell out before you can buy them, resale tickets are an alternative option. Tennis fans wanting to sell their tickets can post resale tickets until the event, so tickets are almost always available. However, resale tickets can fluctuate in price.
Resale ticket prices can increase months before the event or when popular marquee players announce their participation, but you might find an excellent reduced price if you're patient. Fans often drop their asking prices as the event date draws closer, so waiting until the day before or the day of the U.S. Open can help you access cheaper tickets. However, waiting does not guarantee ticket availability or a good deal. Purchasing tickets as early as possible provides peace of mind and lets you plan your trip.
How to Get to the U.S. Open
If you're wondering how to go to the U.S. Open, it depends on where you arrive in New York. Tennis fans from around the world travel to different airports, each offering different routes to the U.S. Open.
New York's John F. Kennedy and LaGuardia airports are close to the U.S. Open tennis stadiums. Newark Liberty International Airport in New Jersey is another nearby option. You can travel from each airport to the U.S. Open in the following ways.
From JFK Airport: A tram departs from JFK Airport's Terminal 4 every five minutes, and you can reach the U.S. Open within approximately 58 minutes, including transfers. You can also travel via taxi or car to arrive at the stadiums within about 11 minutes.
From LGA Airport: A bus from LGA takes around 48 minutes to reach the U.S. Open stadiums. You can depart from LaGuardia's Terminal B and travel to the Roosevelt Avenue/Shea Parking Lot. This route also includes transfers, so you can take a taxi or rent a car to reach the stadiums within approximately six minutes if you want a faster, more direct route.
From EWR Airport: You can depart from EWR Airport's Terminal B to take a tram and a train route to the U.S. Open, which takes about an hour and 23 minutes with transfers. You can also drive or take a taxi, which takes approximately 31 minutes.
Estimated travel times vary depending on traffic conditions. New York Mets events create schedule conflicts on some dates, so U.S. Open organizers recommend using public transportation to avoid heavy traffic.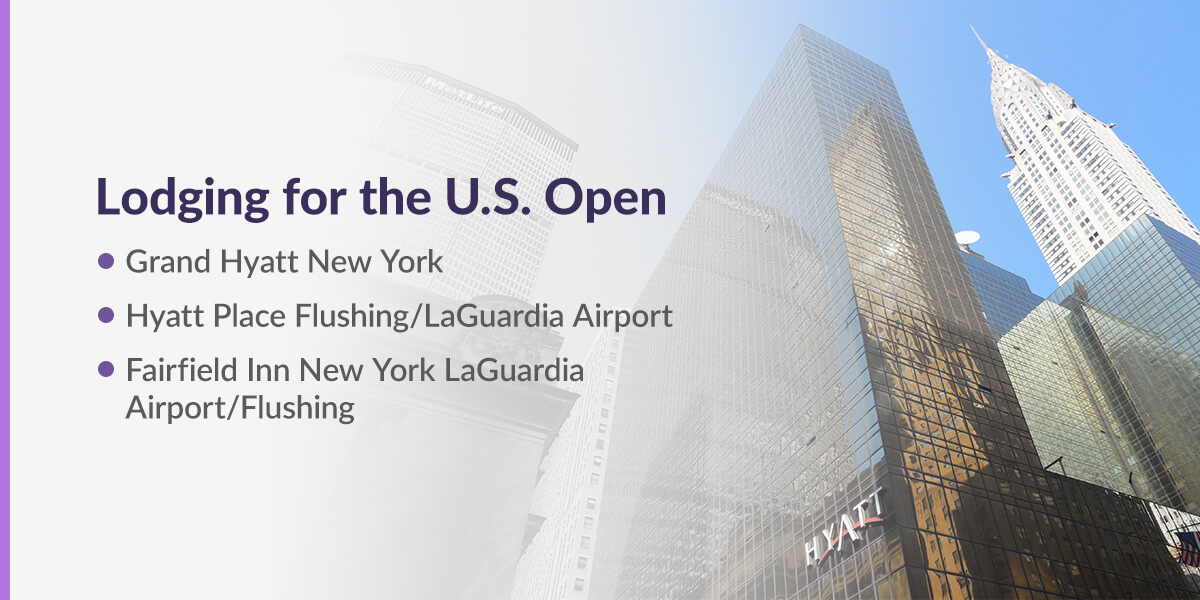 Lodging for the U.S. Open
The best place to stay for the U.S. Open depends on your preferences. If you're looking for tennis perks and hope to spot one of your favorite players, you can enjoy a stay at a hotel that sponsors this year's U.S. Open. You may prefer lodging closer to the stadium if convenience is your top priority, but a hotel in New York City's theater district is ideal if you want to explore the city after attending the matches. Before booking your trip, consider the following options.
Grand Hyatt New York: The Grand Hyatt is a magnificent hotel beside Grand Central Station located above the subway train stop that travels to the U.S. Open, making it a convenient location for reaching the event and exploring the city.
Hyatt Place Flushing/LaGuardia Airport: Hyatt Place Flushing is a modern hotel just a mile from the U.S. Open, making it easy to reach the stadiums.
Fairfield Inn New York LaGuardia Airport/Flushing: Fairfield Inn New York is another excellent hotel near the U.S. Open stadiums and the airport.
Things to Do at the U.S. Open
While thrilling matches are tennis fans' focus at the U.S. Open, you can also enjoy the following activities during your trip.
Eat delicious food: The U.S. Open features various dining options at the stadium's kiosks and food court.
Enjoy live entertainment: Tennis fans can enjoy live music during Fan Week and fun activities on the grounds.
Shop: Inside the stadiums, you can shop for various brands and event merchandise to remember your experience.
Visit the Cadillac ELECTRIQ Theater: The Cadillac ELECTRIQ Theater allows you to learn about Cadillac's fascinating past and future through an immersive experience.
Explore New York City: Visiting New York is a fantastic opportunity to experience the city's most exciting attractions. From Broadway plays to the Empire State Building, there's plenty to do and see after you finish watching your favorite athletes.
Best Viewing Spots at the U.S. Open
While Ashe Stadium is a thrilling venue, most of its seating options are distant from the courts and require you to view the excitement on one of the stadium's screens. The stadium's seating is on a sharp incline, so courtside seating in rows E and F and lower lodging seating in rows A through C offer the best sightlines.
If you want to view the action closer and are on a budget, it's better to purchase tickets for smaller courts in the Grandstand and Louis Armstrong Stadiums. By doing so, you'll give yourself an excellent opportunity to witness up-and-coming tennis stars before they become famous.
To watch each match from a player's perspective, purchase seats on a court's north or south ends. These vantage points let you track the ball without moving your head from side to side during the game.
Enjoy a Safe Trip With REVA
The U.S. Open is an exhilarating chance to witness your favorite tennis players compete. REVA can help you reach the U.S. Open Tennis Championships safely. REVA's private charter flights provide privacy and comfort as we take you to your desired destination. With an experienced pilot and flight crew, you can reach the U.S. Open quickly on a stress-free voyage.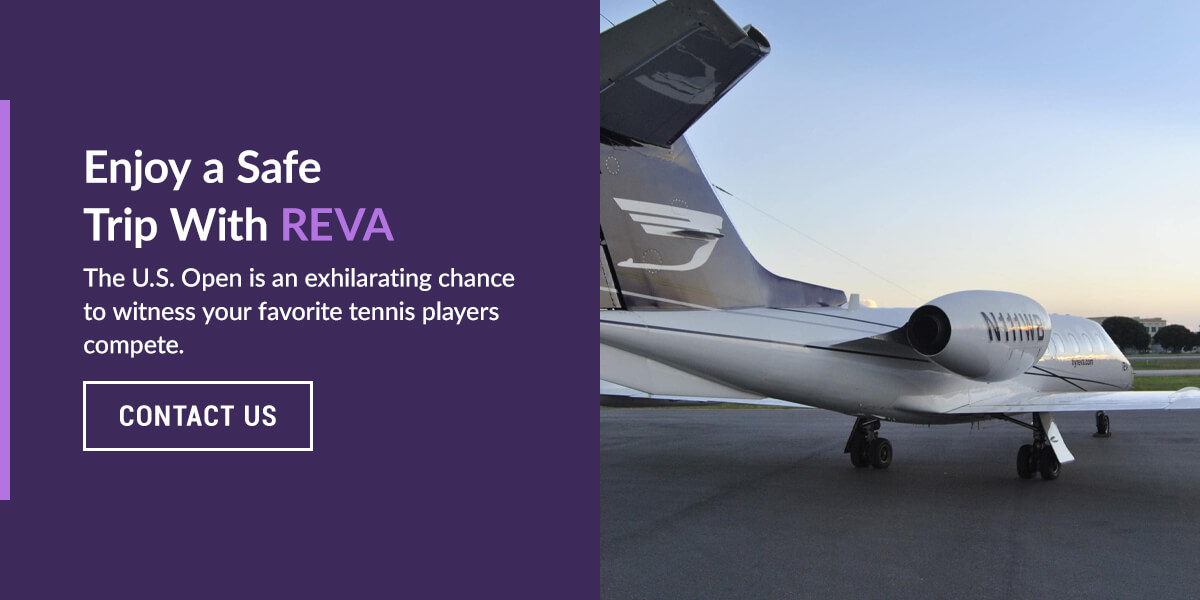 REVA also offers air evacuation services. If you become ill or injured at the U.S. Open, we can transport you to the nearest hospital or a provider in your home state while providing essential medical care.
When you plan your trip to the U.S. Open, consider signing up for ARREVA Advantage. This quality travel protection membership grants access to concierge services, emergency evacuation and medical coverage. Contact REVA to book a private charter flight, become a member of ARREVA Advantage or request an air ambulance quote.