International Hospitals in Canada
If you plan to visit Canada, you can rest assured that you'll have access to excellent hospitals in the event of an emergency. Canada's healthcare system includes highly experienced healthcare professionals and top-notch facilities. As a visitor in Canada, you'll need to have international health insurance to avoid paying for services out-of-pocket. 
Most hospitals in Canada include an English-speaking staff or tools to help patients communicate with healthcare providers. Still, make sure you research nearby hospitals in the area you plan to visit so you know where to go should you become ill or injured. By preparing for emergencies ahead of your trip, you'll be able to stay as safe as possible.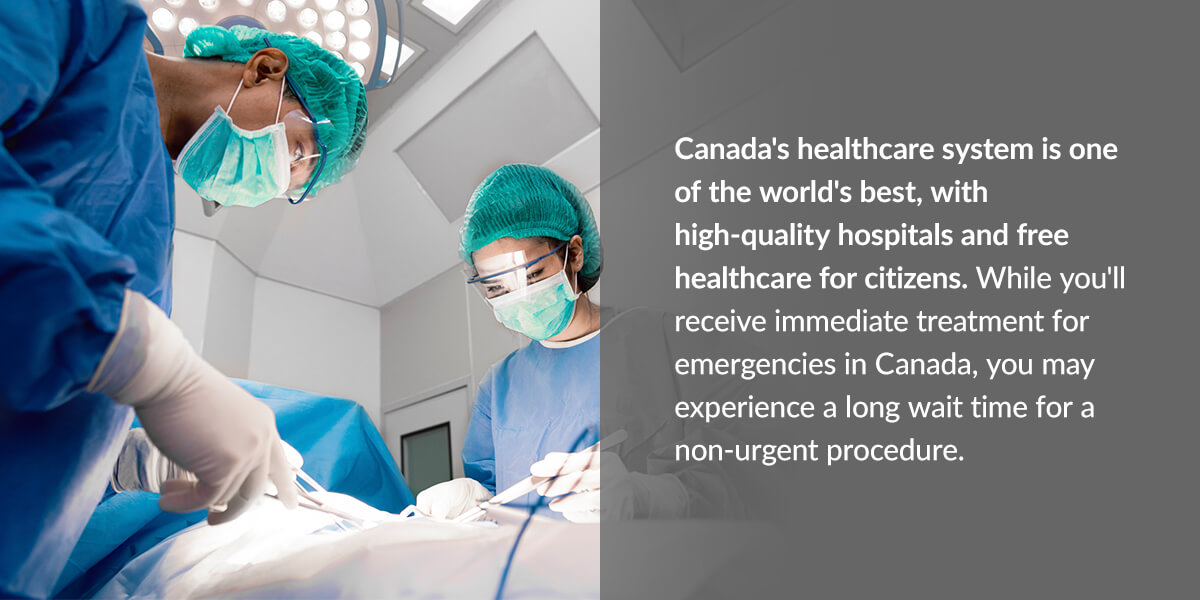 Quality of Healthcare in Canada
Canada's healthcare system is one of the world's best, with high-quality hospitals and free healthcare for citizens. While you'll receive immediate treatment for emergencies in Canada, you may experience a long wait time for a non-urgent procedure.
Sometimes, specialists in Canada are only accessible by referral, and doctors limit services to their current patients rather than accepting new patients. While Canada's healthcare professionals and facilities are top-notch, it can be difficult to schedule important treatments and surgeries without waiting several weeks or months.
Health Insurance Coverage in Canada
Canadian citizens have free healthcare. However, travelers will have to pay for any services they receive during their time in the country. Without public health coverage, private insurance or international medical insurance, you'll be responsible for your medical bill in full. Therefore, it's best to make sure you have coverage before arriving in Canada.
International Hospitals in Canada
The best hospitals in Canada feature experienced staff and high-quality facilities. As a traveler in Canada, you can expect to receive some of the best care in the world while you're there. Throughout Canada's provinces, you'll find numerous hospitals with English-speaking staff, even where the prominent language is French.
If you're looking for the best care in Canada, consider the following hospitals:
Specifically, you'll find many quality public and private hospitals in Toronto, Ontario. Various hospitals in Toronto are also research facilities and teaching hospitals affiliated with the University of Toronto. Some of the best hospitals in Toronto include the following:
Sunnybrook Health Sciences Centre
Mount Sinai Hospital Canada
Toronto General Hospital
Princess Margaret Cancer Centre
If you're looking for English hospitals in Quebec, you can search for facilities on the Voice of English-speaking Quebec (VEQ) website. VEQ is a nonprofit organization that helps Quebec's English-speaking community find helpful resources. VEC offers the Health Passport App, a tool that helps English speakers communicate with French-speaking care providers. Here are several English-speaking hospitals in Quebec:
Laval Hospital (IUCPQ)
CHUL Hospital (Centre hospitalier de l'Université Laval)
Saint-François d'Assise Hospital (HSFA)
Enfant-Jésus Hospital
Hôtel-Dieu (Old Québec)
Hôtel-Dieu (Lévis)
Saint-Sacrement Hospital
Those heading to Montreal can also find English-speaking hospitals. Some of the best English-speaking hospitals in Montreal include the following:
How to Prepare for Possible Medical Emergencies in Canada
It's best to be prepared for medical emergencies in any country you travel to because emergencies can happen anywhere. There's a chance you could become ill or injured and need a doctor's care, or you could experience a medical emergency and need to reach a hospital fast.
To prepare for possible medical emergencies in Canada, consider the following tips:
Research International Hospitals
Research hospitals in and around the areas you'll visit. Create a list of nearby hospitals and note which ones offer English-speaking services. This way, you'll know where you can go in the event of an illness or injury. Make note of which hospitals are closest to you, and include their contact information on your list.
Create a Plan
Make a list of nearby companions you can call in case you need a ride to the hospital or simply need a friend for support. If you don't have any companions in the area and you'll be traveling alone, create a list of taxi or ride services you can contact if you need to reach a hospital or doctor's office. In the event of a major or life-threatening emergency, dial 911 to request emergency services.
It's also important to create a plan for what you'll do in the event you become ill or injured. Will you remain in Canada for treatment or return home to your primary doctor? If you would rather receive medical treatment in your home country, it's best to create a plan for how you'll get there.
Add Medical Evacuation Coverage to Your Insurance Plan
Make sure you have medical evacuation coverage before traveling to Canada. In the event of an illness, injury or emergency, a medical evacuation flight team can transport you home safely while providing necessary medical care. When you add medical evacuation coverage to your insurance plan, you can access evacuation services at a more affordable cost than you would otherwise.
Contact your insurance provider to add medical evacuation coverage to your plan if it's not already included.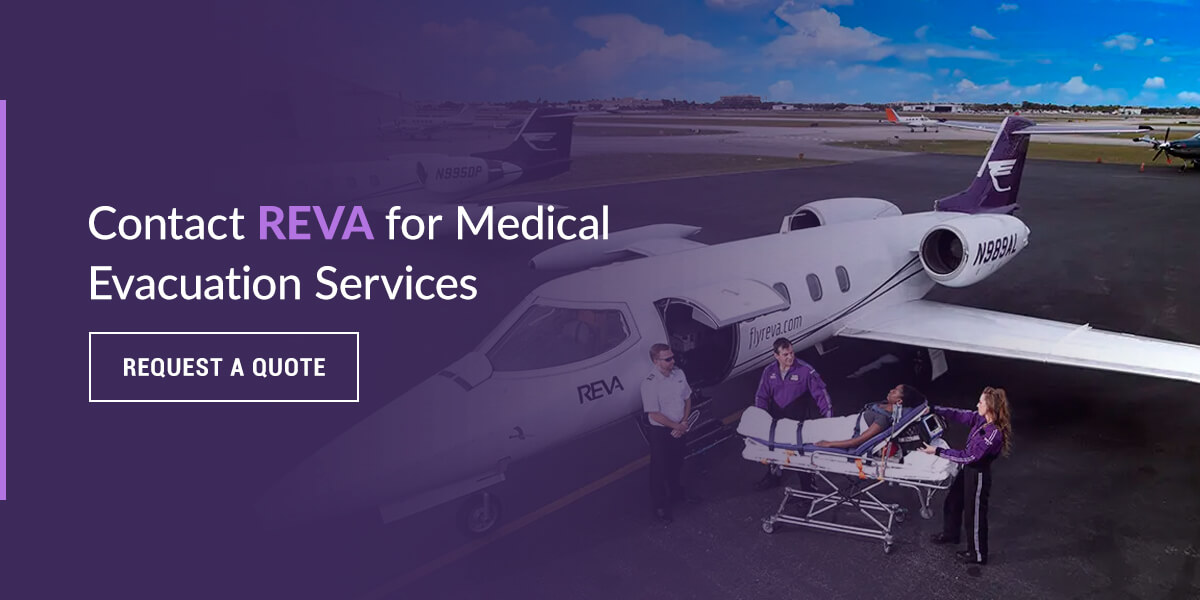 Contact REVA for Medical Evacuation Services
Canada is a beautiful country with excellent healthcare. However, in the event that you experience an illness or injury and need to return home or to a different facility, REVA can transport you safely.
REVA provides ground transportation, air transportation and an expert medical team to provide critical medical care along the way. Our flight and medical teams are highly trained to provide the safest and best services possible. REVA's services are available 24 hours a day and seven days a week, so you can depend on our team at any time.
Travel with peace of mind and receive the best care from REVA's air ambulance team. Whether you need to relocate to another country for an important surgery or want to return home to be with family, REVA will transport you there safely. 
Contact REVA to learn more about our medical evacuation services.