Best International Hospitals in Israel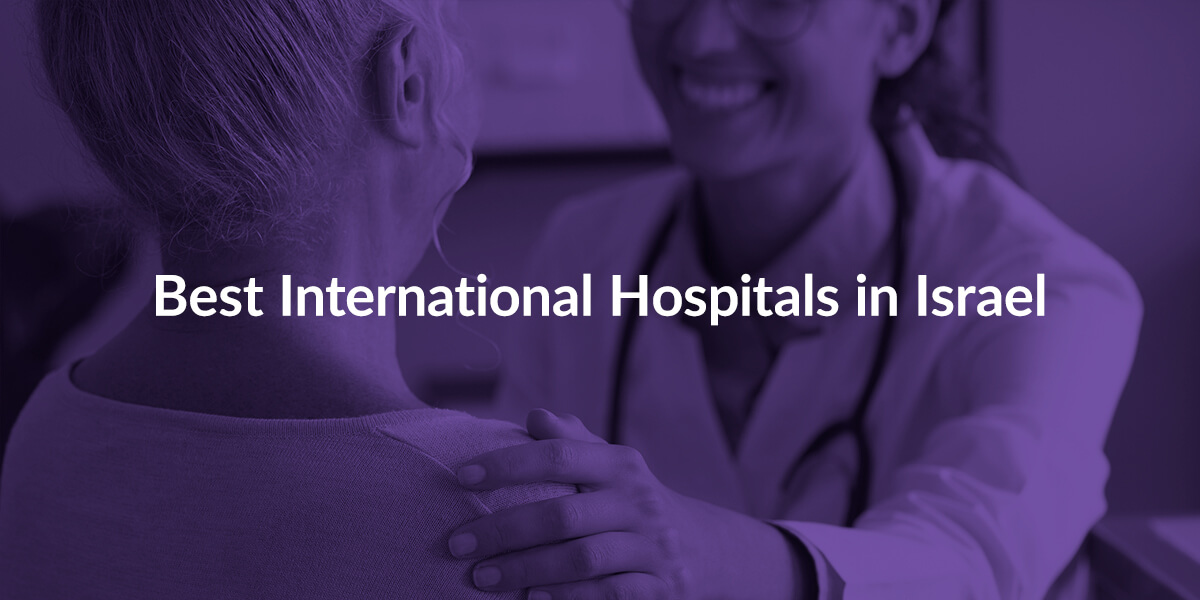 Israel has a high-quality and affordable healthcare system. Whether you travel to Israel to visit or work, you'll be in good hands in the event of an illness or injury. As someone traveling abroad, it's always crucial to know that you have access to top-of-the-line care when you're in a new environment.
Some of the best international hospitals in Israel offer top-of-the-line technology, excellent facilities and experienced, English-speaking staff. Creating a medical emergency plan to ensure you're prepared in the event of an illness or injury during your time in Israel is always a smart step. REVA can help.
Israel's Healthcare Quality
The Israeli medical system is high-quality, making it a popular medical tourism destination due to its affordability and quality. Many medical tourists take trips to Israel to receive higher quality care than they can receive in their countries. The country's expert medical system also gives tourists peace of mind as they know they can travel safely there.
Israel's primary health service options include hospitals and medical centers. The country's hospitals provide emergency care, diagnostic tests, laboratory work, operations and consultations, while its medical centers provide operations and various types of specialized care.
Israel also has efficient emergency services. Additionally, Israel is well-known for its state-of-the-art research facilities and medical technology.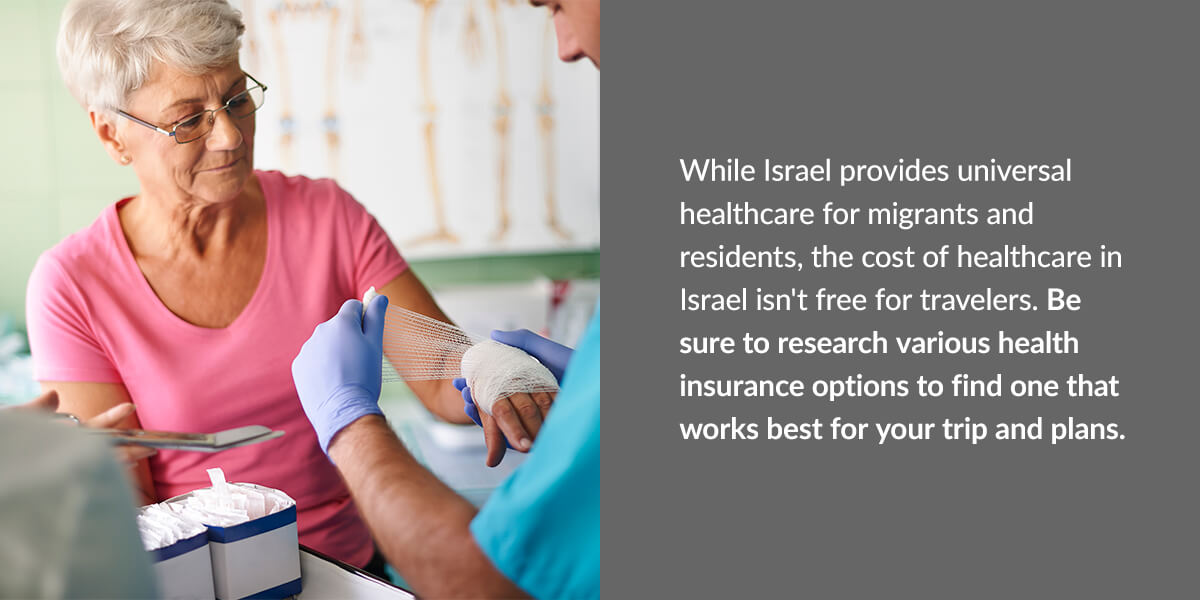 Health Insurance Coverage in Israel
Regarding health insurance in Israel for tourists, it's recommended that travelers purchase a plan before their trip to ensure they'll be covered in the event of an emergency. While Israel provides universal healthcare for migrants and residents, the cost of healthcare in Israel isn't free for travelers. Be sure to research various health insurance options to find one that works best for your trip and plans.
If you're heading to Israel for a short amount of time, such as a week-long vacation, you should still explore healthcare plans. The plan you choose will save you from paying a hefty medical bill in the event of an emergency. That said, Israel has a universal healthcare system, so your medical bill will likely be less expensive than what you may pay elsewhere regardless.
If you're going to Israel for a medical reason, you'll likely already be looking into your options. Individuals can hire a medical tourism broker when traveling to Israel specifically for a medical procedure. A medical tourism broker will organize procedure logistics, accommodations and sightseeing activities for the traveling patient.
International Hospitals in Israel
English is Israel's unofficial second language, so travelers can easily communicate with many healthcare providers. Most of Israel's physicians and nurses are highly trained and fluent in English. 
The Chaim Sheba Medical Center, a Tel Aviv hospital, and Jerusalem's Hadassah Medical Centre require staff to understand English. The Chaim Sheba Medical Center is Israel's largest hospital, and it features various departments and services.
Jerusalem's Sharre Zedek Medical Centre also has a large English-speaking staff. Israel's Nazareth Hospital provides services in English, Arabic, Hebrew and Russian, and people often refer to it as "the English hospital."
Israel's best international hospitals contain the same ultramodern diagnostic medical equipment found in Europe and the United States. Israel is also well-known for designing, manufacturing and exporting equipment, especially computerized axial tomography (CAT) scanners.
How to Prepare for Medical Emergencies in Israel
While emergencies are the last thing you want to think about as you prepare to travel abroad, they can happen anywhere. Preparing for emergencies can provide peace of mind. If you're planning to travel or work in Israel, it's important to create a medical emergency plan in case you experience unexpected illnesses or injuries.
To prepare for possible medical emergencies in Israel, consider the following tips:
Research English-Speaking Services
Make sure you know who you can call and where you can go in the event of an emergency. Research where each hospital is located, which services they offer and how you can get there. In the event of a minor illness or injury, you can search for that information when you need it. In the event of an emergency, however, you may not have time to research, so knowing what's available beforehand is always a smart idea.
Make a List of Important Phone Numbers
Once you locate hospitals that are nearest to where you'll travel in Israel, make a list of phone numbers so you can easily reach them or schedule appointments. In emergencies, you can dial 101 for emergency response or an ambulance.
It's also important to make a list of nearby companions you can contact if you need help. Whether you need someone to take you to the hospital, translate for you or simply offer support, it's good to have a list of people you can call in emergency situations.
Create a Medical Evacuation Plan
While Israel's healthcare system is affordable and high-quality, you may still find yourself needing to return home for various reasons. Whether you want to return home to be with family or need care from your primary doctor in your home country, you may need medical evacuation services.
Create a plan for how you'll travel home if you're ill or injured. Check if your insurance plan covers medical evacuation services. Many insurance plans don't include that coverage, so you may need to add it to your current plan as a supplement. With evacuation coverage, you can avoid paying high prices to return home on a medical evacuation flight. Ask your current insurance provider to add medical evacuation coverage to your plan so you can travel with peace of mind.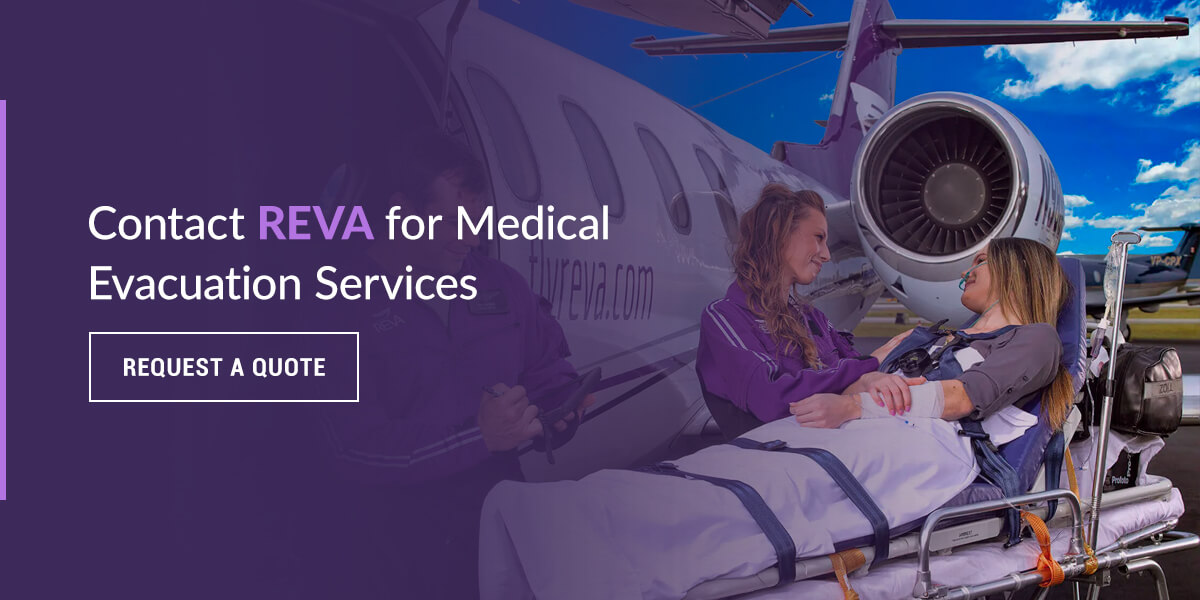 Contact REVA for Medical Evacuation Services
The reality is that emergencies can happen anywhere. Fortunately, REVA's medical evacuation services will take you where you need to go and provide necessary care along the way. REVA's experienced and compassionate air ambulance team will arrive quickly and provide critical care during every step of the evacuation process. 
With the most modern life support and critical care equipment, we ensure your international medical flight is safe and secure. Call +1-(305)-549-5906 or request a quote to learn more about REVA's medical air evacuation services.