FORT LAUDERDALE, Fla. – At REVA, Inc., everything we do deals with human lives and we take our safety program, compliance and performance very seriously. As such, our commitment to advanced training programs plays a pivotal role in the ongoing success of our employee development.
Every medical professional at REVA has recently undergone extensive additional medical education and training with human patient simulators which provide state-of-the-art emergency medicine training capability. Utilizing this innovative technology prepares our employees to more effectively respond to emergency situations. Totaling over two hundred medical professionals, they train with life-size human patient simulators that mimic life-threatening conditions and endure invasive procedures without a whimper. Training in this environment is critical in helping our medical staff deliver medical oversight, monitoring, and emergency care that is unsurpassed aboard North America's largest fleet of air ambulance jets.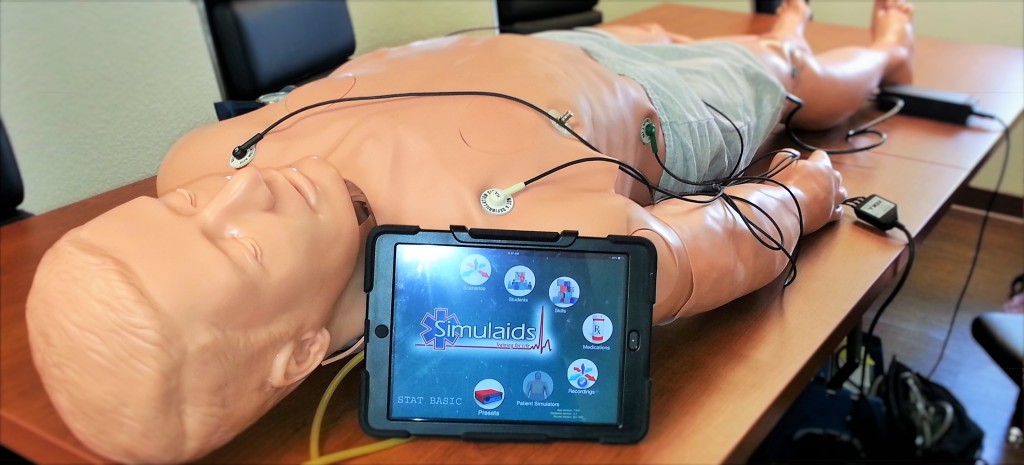 REVA Inc., "has invested $50,000 in four programmable mannequins that create a 'true to life' medical training experience," said REVA Program Director, Lesa Armstrong, R.N. who has been coordinating the human-patient simulator program along with Andre duCille, REVA Director of Training and Education. "Human patient simulators replace traditional air-ambulance staff training on cadavers located at off-base medical centers, where training costs about $6,000 per group session — up to 30 times a year," Armstrong noted.
Even significant cost savings are secondary to the scope and variety of the highly realistic scenarios that REVA staff have been programming into the simulators using an Apple iPad Air. "Not only is the overall quality of the medical training experience improved, but we can now train on-site at every REVA base and installation, making it easier to conduct annual updates and re-certifications," Armstrong said.
Just a sampling of what REVA's four human patient simulators can be programmed to mimic is impressive. Each 'Stewie' – as the devices have been nicknamed – produces life-like heart and lung sounds, two-point thoracic decompression, and has sites for chest drains. They create the feel of actual blood pressure and spontaneous breathing. Users are challenged with realistic airway management training, including cricothyrotomy (using a needle to create a life-saving airway), and intubation by nasal and oral routes. The devices mimic cardiac crises and challenge trainees to administer emergency EKGs, cardioversions, chest compressions, IV access, and drug therapy.
Manufactured by Simulaids of Saugerties, N.Y., the U.S.-made human patient simulator has a programmable, micro-manageable air compressor that supports 12 pulse points synchronized to the heart rhythm. Every 'Stewie' can mimic a swelling tongue and edema of the larynx. "Even gaping wounds and massive traumas can be added to the mannequin, creating customized emergency and disaster scenario simulations," Armstrong said.
An important feature of every simulator's advanced capabilities is its programmability. REVA trainers can program Stewie's 'brain' to produce additional scenarios and medical emergencies. "When practitioners can see a 'patient response' immediately, the training outcomes can be directly tied to patient care and safety," Armstrong said. "That benefits patients and providers on every possible level – from direct medical intervention to the intangible qualities such as doing what we do with a heightened awareness of safety, competence, and caring."
For more information about REVA, visit flyreva.webpagefxstage.com on the web or telephone the Fort Lauderdale, Fla., corporate headquarters at (954) 730-9300.