6 Best Summer Destinations in Europe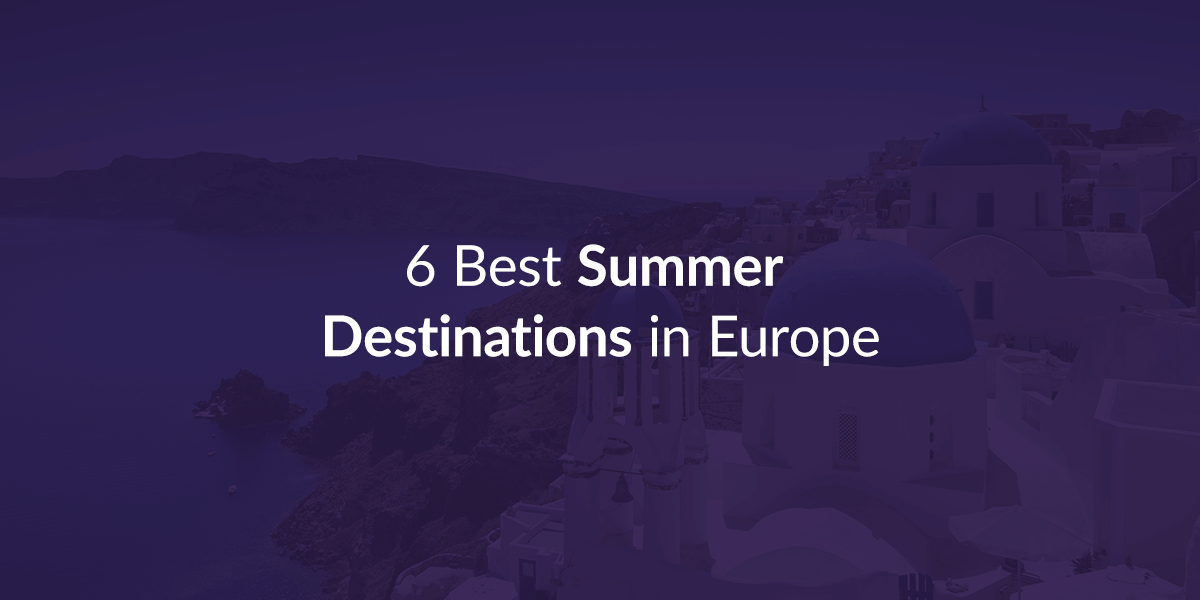 Summer is one of the best times to go on adventures and explore new countries. Whether you are traveling solo or with friends and family, you can discover some of the best summer vacation destinations in Europe.
Explore one or several of the following European summer destinations to satisfy your spark for adventure and wanderlust.
1. Greece
Lounge on the white sand beaches or traverse ancient ruins while spending time in Greece. Visit the famous city of Santorini to experience the traditional white-and-blue villages in person. If you're interested in history, spend time in Athens to visit the Parthenon, a former temple dedicated to the Greek goddess Athena.
2. Italy
Experience Italy's romantic atmosphere — the country is one of the best places in Europe for romance. Spend time on the gorgeous island of Sicily to relax and savor a delicious meal. You can also explore the ancient ruins of the Colosseum and Pantheon in Rome.
3. The United Kingdom
From England and Wales to Scotland and Ireland, you have many adventures waiting for you in the U.K. Visit London, England, to see Big Ben and the changing of the guard at Buckingham Palace. Or, take a trip to Scotland to witness the beautiful landscapes and castles.
4. Spain
Indulge in flavorful tapas and seafood when you visit Spain. Barcelona, Madrid and Seville are excellent sources of the finest foods. You can enjoy flamenco traditions as well while staying in the Andalucía region.
5. Switzerland
Switzerland is known for its breathtaking landscapes, from ice-capped mountains to sparkling clear lakes — and if you want to immerse yourself in the outdoors, Switzerland is the ideal place. Hike the Eiger trail in Grindelwald or ski in Verbier.
6. Portugal
When you visit Portugal, you will be able to participate in a wide variety of water sports. The country's Algarve region is known for its sandy beaches and warm swimming coves. You also won't want to miss a wine tour in the Douro Valley.
Embark on Your European Summer Trip With REVA
Whether you are planning to visit many countries or just one, your European summer trip will be unforgettable. Fly to each of your summer destinations in comfort and style by taking a charter flight with REVA.
Our charter flights offer privacy as you travel to your destinations, and our aircraft have everything you need for a relaxing and safe journey. Stay connected with the in-flight Wi-Fi and enjoy generous legroom for each seat.
Book a charter flight for your summer vacation in Europe by calling 866-461-9102 or requesting a quote today.