Guide to Planning a Golf Vacation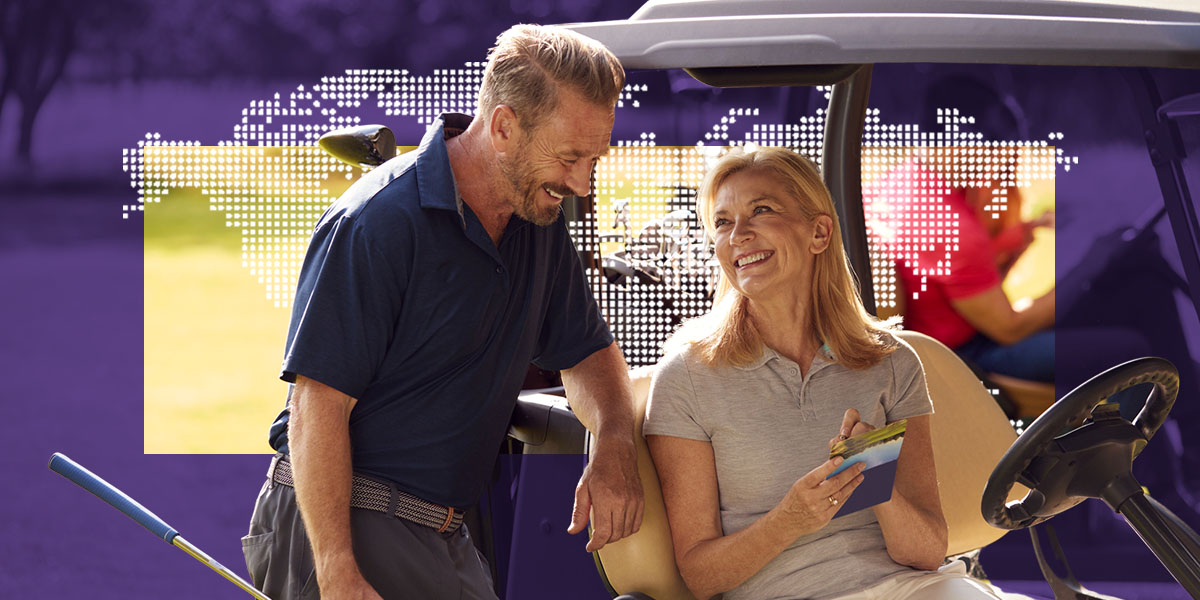 Planning a golf vacation can be a great way to play new courses while spending time with friends. However, if this is your first time planning a trip, it can be difficult to know where to start. With a few tips and tricks, you can plan a great golf vacation you and your friends will love.
Consider Your Destination
One of the first steps in planning a golf vacation is to decide if you plan on traveling within the United States or overseas. If you choose to stay within the U.S., is there a course you want to visit or a particular state? If you go abroad, which country would you like to see?
Many golfers choose their golf vacation based on other planned activities. For example, if you have family in Alabama, you may decide to play there and see your relatives or visit the beach. Or, you may choose to play in a country such as England to sightsee after playing a round.
Decide Who to Invite
As the golf trip planner, you are in charge of deciding if you will have friends or family accompany you or if you are traveling alone. You may also want to take your spouse and children if the golf course is near some family-friendly activities.
To aid in your decision, consider:
If you plan a last-minute trip, you may wish to go alone. Most courses allow walk-ons and will match you with another group or allow you to play alone.
As you plan your trip, you may wish to search for family-friendly locations to determine if there are activities for a spouse or children to enjoy.
What additional activities are available to enjoy? If you bring your friends and family, you may wish to choose a location that offers more than golf. You may want to select an area with multiple amenities and activities in case you have to cancel your game due to rain or you wish to do more after you play a round.
Can you fit in a few rounds on the weekend or after completing your work responsibilities for a work-related trip? Many courses offer outdoor lighting to let golfers complete a game before it is too dark.
Choose a Time to Go
Consider the time of year you want to travel and how the weather affects your play. As you look for a golf course, it's also vital to check the temperature. You don't want to land a great deal only to find that it's too hot to play when you arrive. Checking the temperature will ensure you can play during your trip and protect you and other companions from heat stroke and other heat-related concerns.
Decide on a Budget
Some golfers pick a course based on a particular location regardless of cost. Other golfers choose a site based on price. For example, a popular spot such as Las Vegas can have courses with green fees ranging from $80 to $500.
What to Take on a Golf Trip
After deciding where you want to go and who you want to bring, your next step is to consider what you would like to bring on your golfing trip. Some golf trip must-haves include:
Clubs
Depending on your location, you will want to consider if you're bringing your own clubs or renting them. If you travel with your own clubs, you must check with your airline first to discuss any size or weight restrictions.
When traveling with your clubs, you want to ensure they are safe during your flight by storing them in a secure case. While a nylon bag case with a zip hood is affordable, it can be flimsy during transportation. Most airlines also do not assume liability for any damage to clubs. Your best option would be to invest in a hard-sided travel case with a sturdy design to protect your clubs.
Travel Protection
One of the best ways to ensure you and anyone you travel with are safe is by partnering with REVA. We proudly provide air ambulance services for clients traveling domestically and abroad. By investing in our services, our medical team will safely transport you from your current location to your home or medical facility of choice to ensure you receive the care you need. We provide care from bedside to bedside and treat all of our clients with compassion while providing expert medical services.
Gear, Clothing and Other Essentials
When packing items such as your clothing, gear and other essentials, making a golf trip packing list is helpful. You can also use your golf trip checklist to pack climate-specific items such as a sun hat or rain gear.
Keep these packing tips in mind:
As you pack your golf bag, include golf trip essentials such as ball markers, tees and your divot tool. You should plan to bring about a dozen balls and store your shoes directly in your golf bag.
Pack your clothing in a durable, wheeled travel bag or suitcase you can carry on the plane. It's important to remember that you cannot bring your golf bag on the plane with you, and you will have to check it as luggage.
Include items such as your camera, golf GPS and smartphone in your carry-on to keep them safer from damage as you travel.
Plan your clothing based on the duration of the trip and the temperature. You may wish to pack layers to enable you to dress appropriately as the weather changes throughout the day.
Keep Yourself Safe on Your Golf Trip With REVA
Planning a golf trip is an exciting experience. As you consider where you plan to go and the people you wish to bring, it's essential to also think about travel protection. At REVA, we offer comprehensive protection through our air ambulance services.
From the moment you contact the REVA team to the time you reach your final destination, we will take care of your medical transport needs. We strive to go above and beyond in caring for our clients and ensure you receive expert medical care throughout your flight. Complete our online form to request a quote for our air ambulance services!